Moderate earthquake shakes Oklahoma, felt in Kansas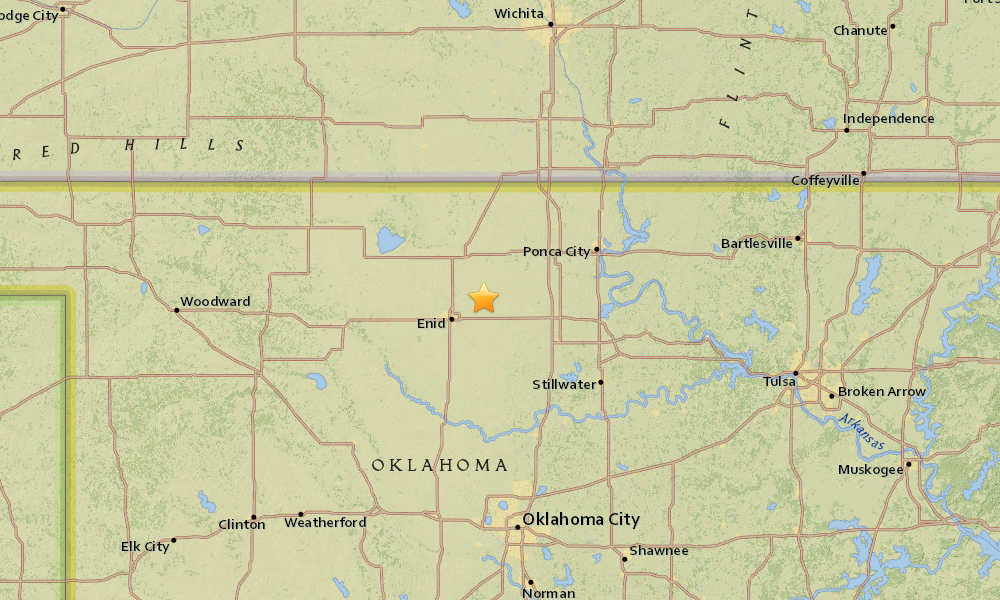 A moderate earthquake with a preliminary magnitude of 4.2 has struck Oklahoma, with shaking felt in Tulsa, Oklahoma City, and as far away as Wichita in Kansas, seismologists and residents say. Only few details were immediately available.
The earthquake, which struck at 5:17 p.m. on Sunday, was centered about 11 miles northeast of Enid, or 37 miles southwest of Ponca City and 44 miles northwest of Stillwater. It struck at a depth of 3.5 miles, making it an extremely shallow earthquake.
The United States Geological Survey (USGS) put the preliminary magnitude of Sunday's earthquake at 4.2. It said shaking from the earthquake was felt across the region, including Norman, Oklahoma City, Tulsa, Wichita, and Olathe.
There were no immediate reports of damage or injuries. Computer models from the USGS estimated that as many as 5.2 million people across the region may have felt the earthquake, including some 17,000 people who could have experienced moderate shaking.
"[The] earthquake shook everything in our house, things fell off shelves [and] my couch shook hard," one resident in Enid told EMSC. Another resident said: "It hit very hard like as if a car just crashed into my house."
Oklahoma and Kansas are regularly hit by small tremors, though in September 2016 a 5.8-magnitude earthquake struck northwest of Pawnee in Oklahoma, causing damage and injuring one person. It was the largest earthquake ever recorded in the state of Oklahoma.
Prior to last year, the strongest earthquake ever recorded in Oklahoma was a 5.7-magnitude earthquake that struck near Prague in November 2011, destroying 14 homes and injuring 2 people. That earthquake was felt in at least 17 states across the region.