Woman arrested, charged with acting as a Russian agent in the U.S.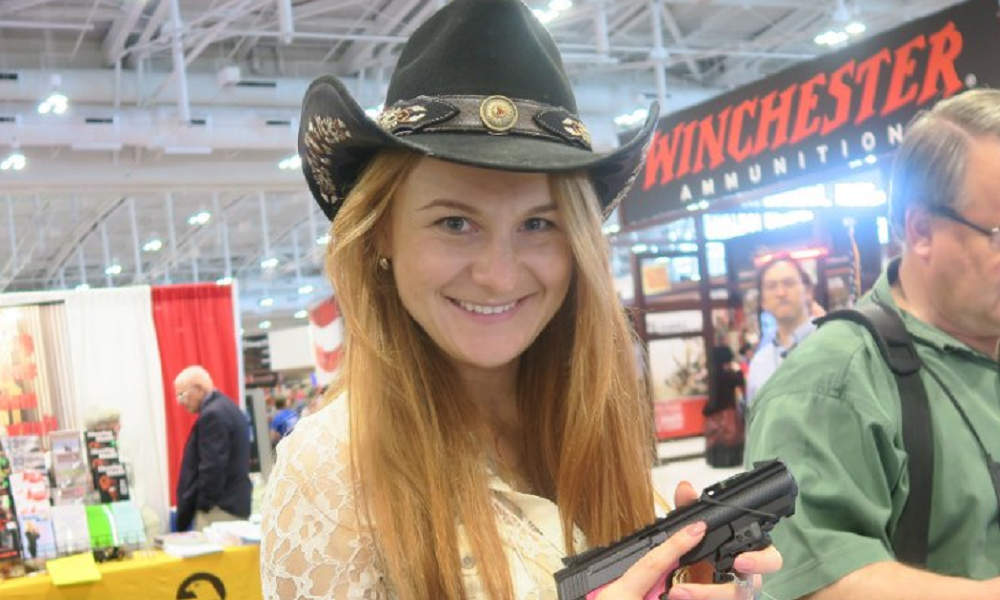 A 29-year-old woman from Russia has been arrested in Washington, D.C. on accusations that she conspired to infiltrate political organizations, including the gun rights group NRA, on behalf of the Russian government.
The U.S. Justice Department announced on Monday that Maria Butina, who lives in Washington, D.C., was arrested in the capital on Sunday. She was charged in federal court with conspiracy to act as an unregistered agent of the Russian government.
According to prosecutors, Butina worked as a special assistant to a high-level official in the Russian government. Although the official's name was not released, his profile fits that of Alexander Torshin, the deputy governor of Russia's central bank and a former senator.
Investigators believe Butina first met an American political operative in Moscow in 2013, after which the operative – whose name has not been released – introduced her to Americans who have influence in U.S. politics, including the gun rights organization NRA.
According to court documents, Butina told the operative in an email sent in 2015 that Republicans were likely to win the 2016 election. She further explained that the NRA plays a significant role in the Republican Party as it is the largest sponsor of elections to the U.S. Congress.
Prosecutors allege that Butina and the Russian official worked together to develop relationships with American politicians in order to establish private lines of communication. "These lines could be used by the Russian Federation to penetrate the U.S. national decision-making apparatus to advance the agenda of [Russia]," the criminal complaint says.
Butina is believed to have met with U.S. politicians and political candidates as part of the influence operation, which is alleged to have begun as early as 2015 and continued through February 2017. She also attended events which were sponsored by special interest groups and were attended by politicians and political candidates.
The criminal complaint alleges that Butina undertook her activities without officially disclosing that she was acting as an agent of the Russian government, which is required by U.S. law. If convicted, she could face a maximum sentence of up to 5 years in prison.
Robert Driscoll, an attorney for Butina, denied the allegations. "Maria Butina is not an agent of the Russian Federation. She is a Russian national in the United States on a student visa who recently graduated from American University in Washington, D.C. with a Masters Degree in International Relations," he said.
Driscoll said Butina had been cooperating with government entities for months, and noted that she voluntarily and privately testified before the U.S. Senate Intelligence Committee for 8 hours and produced thousands of documents. He said she would also have cooperated with law enforcement if they had requested her to do so.
"There is simply no indication of Butina seeking to influence or undermine any specific policy or law [of] the United States – only at most to promote a better relationship between the two nations," Driscoll added. "The Complaint is simply a misuse of the Foreign Agent statute, which is designed to punish covert propaganda, not open and public networking by foreign students."
There was no immediate comment from the Russian government on the U.S. allegations against Butina. Monday's news came just hours after a high-profile meeting in Helsinki between U.S. President Donald Trump and Russian President Vladimir Putin.
Putin said during a joint press conference that he wanted Trump to win the election because the Republican spoke about normalizing U.S.-Russian relations, but he emphasized that Russia had never, and would never, interfere in U.S. affairs, including election processes.
At a public event in 2015, Butina asked then-candidate Trump about his foreign policy plans and whether he would continue U.S. sanctions against Russia. "I believe I would get along very nicely with Putin .. I don't think you need the sanctions," Trump told Butina.
The allegations against Butina were not filed by Special Counsel Robert Mueller, who is investigating Russia's alleged interference in the U.S. election and possible links to Trump's campaign. Twelve Russian intelligence officers have been charged in the U.S. for allegedly hacking into computer networks of the Democratic Party.