Suspect opens fire at Pittsburgh synagogue, killing at least 11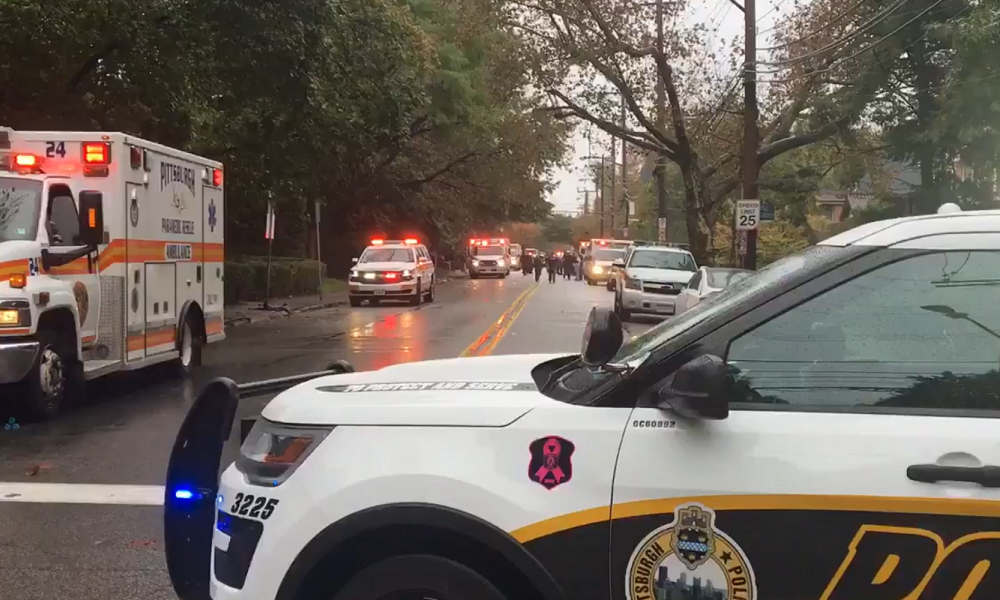 A gunman has opened fire at the Tree of Life Congregation Synagogue in Pittsburgh, killing at least 11 people and injuring several others, local officials say. He is reported to have shouted anti-Semitic abuse.
The incident began just before 10 a.m. ET on Saturday when the suspect, a 46-year-old man, walked into the synagogue. He reportedly shouted "all Jews must die" as he opened fire, shooting people indiscriminately.
Officers who arrived on the scene came under fire from inside the building, resulting in one officer being shot. Multiple victims were found on multiple floors when officers began searching the building.
Just before 11 a.m., officers encountered the suspect on the 3rd floor, leading to a gunfight in which two more officers were shot. The suspect retreated into a room but surrendered about 15 minutes later.
According to police, at least 11 people were killed and 6 others have been injured. Four officers are among those injured, all of whom are said to have suffered non-life threatening injuries.
Authorities said the suspect is believed to be 46-year-old Robert Bowers, who was armed with a semi-automatic rifle and multiple handguns. He had posted on the social networking website Gab just minutes earlier.
"HIAS likes to bring invaders in that kill our people," Bowers said, referring to a Jewish organization that protects refugees. "I can't sit by and watch my people get slaughtered. Screw your optics, I'm going in."
President Donald Trump and other leaders condemned the massacre.
"The shooting in Pittsburgh this morning is an absolute tragedy," Pennsylvania Governor Tom Wolf said in a statement. "These senseless acts of violence are not who we are as Americans."
I have just arrived on scene on Murray Avenue heavy heavy police presence armed swat along with emergency personnel #wpxi pic.twitter.com/IszDhILV78

— Stephen Banfield (@coachtvnews) October 27, 2018
BREAKING: HEAVY POLICE ACTIVITY AT TREE OF LIFE SYNAGOGUE IN SQUIRREL HILL pic.twitter.com/nHIPehF3ar

— Chris Lovingood WTAE (@CLovingoodWTAE) October 27, 2018