Plane crashes into hangar at Texas airport, killing 10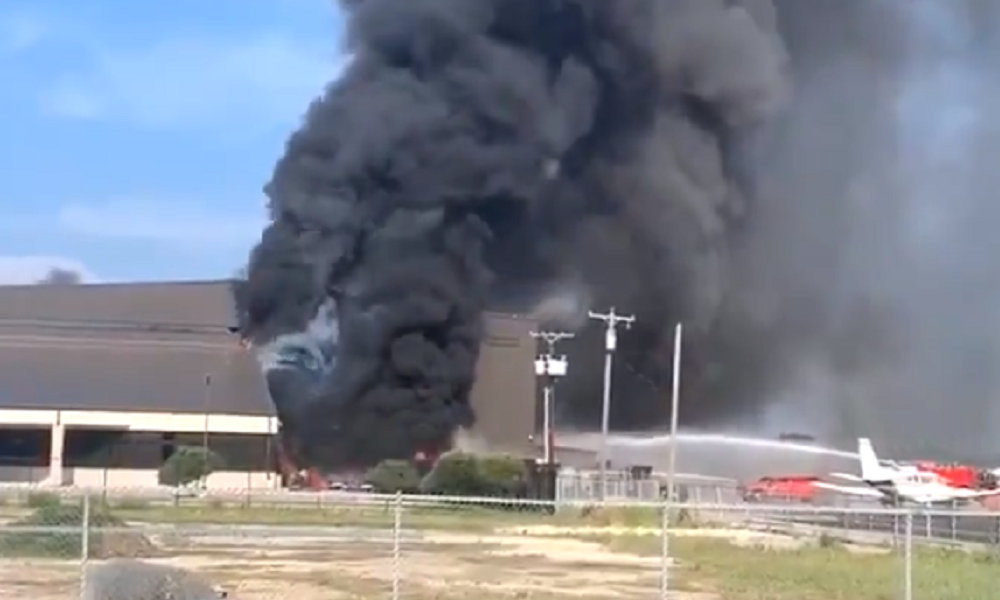 A small, twin-engine plane has crashed into a hangar at Addison Airport near Dallas, causing a large fire and killing all 10 people on board, local and federal officials say. The cause of the crash was not immediately known.
The plane had taken off from Addison Airport in Addison, about 13 miles (21 kilometers) north of Dallas, just after 9 a.m. on Sunday. It crashed into one of the airport hangars a short time later, causing a fire and destroying the aircraft.
The Dallas County Medical Examiner's Office confirmed that the plane, a Beechcraft BE350 King Air, was carrying 10 people and there were no survivors. The names of the victims were not immediately released.

The aircraft was scheduled to fly to St. Petersburg in Florida.
Photos and videos showed thick plumes of black smoke billowing from the site of Sunday's accident. Federal officials said no one was inside the hangar at the time of the crash and there were no reports of casualties on the ground.
The cause of Sunday's deadly plane crash was not immediately known. Both the Federal Aviation Administration (FAA) and the National Transportation Safety Board (NTSB) have launched an investigation.

Multiple witnesses tell @FOX4 a plane crashed into a hangar at the Addison airport this morning. Fire Dept is on scene, we are waiting for more info from FAA & fire officials pic.twitter.com/kcHHehtbx6

— Lynnanne Nguyen (@LynnanneFOX4) June 30, 2019
@FOX4 fire at addison airport, looks to be a repair hanger
Happening now.. pic.twitter.com/YLVwainY2W

— Delivered Terry Pie (@DeliveredTerryP) June 30, 2019
Anotber witness video of the plane that crashed into a hangar during takeoff this morning at the Addison Airport. FAA says it was a twin-engine Beechcraft BE-350 King Air, they haven't said how many people on board @FOX4 pic.twitter.com/G7UZAyxfnN

— Lynnanne Nguyen (@LynnanneFOX4) June 30, 2019
@wfaa plane crash at Addison airport pic.twitter.com/1bOFPGfPuJ

— JohnyAlamo (@Johnyalamo) June 30, 2019