Hundreds feared dead after migrant boat sinks off Greece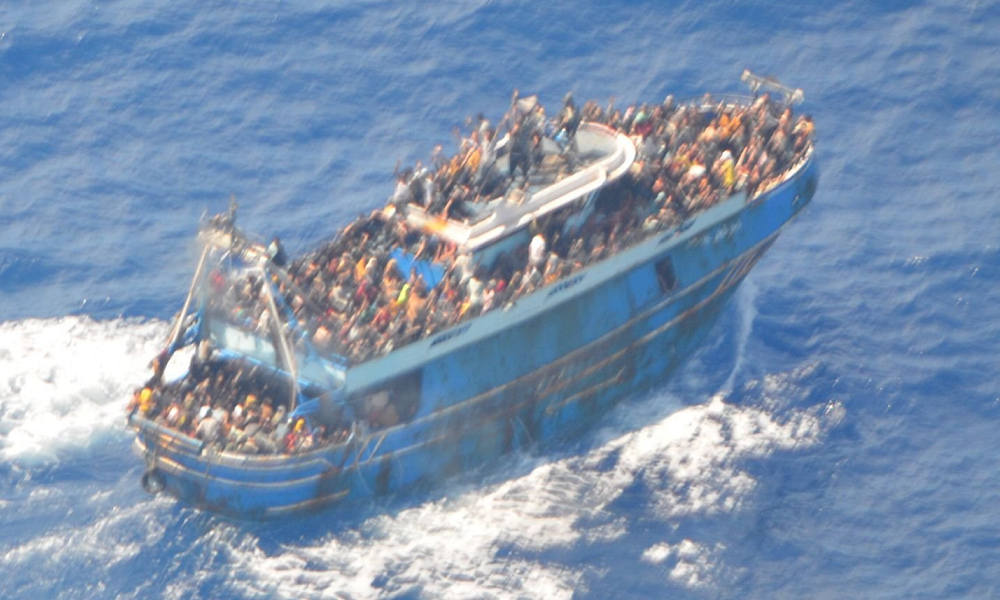 Hundreds of people are feared to have drowned after an overloaded migrant boat capsized and sunk off the coast of Greece, officials say, making it one of Europe's deadliest shipwrecks in recent years. About 100 people have been rescued.
The large fishing boat set sail from the Libyan town of Tobruk and capsized in international waters of the Mediterranean Sea at around 2 a.m. on Wednesday, about 47 nautical miles from Pylos, a town in southern Greece.
At least 80 bodies were recovered from the water by Wednesday night but officials said the death toll was expected to rise significantly. A total of 104 people were rescued and are reported to be in good condition.
Rescue support charity Alarm Phone said the 20-30 meter (65-100 foot) long boat was carrying 750 people, but Greek officials said this figure was exaggerated and that the ship was not capable of carrying that many people.
Charities and activists accused Greece and other countries of failing to rescue the passengers, some of whom had been sending distress calls for more than 12 hours. The Greek Coast Guard, however, claimed the ship had repeatedly refused offers for help and was only asking for food and water.
Alarm Phone became aware of the problems on Tuesday morning, when someone on Twitter said a boat with 750 people was in heavy distress after running out of drinking water on the fourth day of its journey. In an update hours later, the account claimed that 6 people had already died.
Passengers also made repeated calls to Alarm Phone, pleading for help. "The captain left on a small boat. Please any solution," one of the passengers told the charity on Tuesday afternoon. A few hours later, passengers said they had received water from a merchant vessel called the "Lucky Sailor."
"A merchant ship near the boat carrying 750 people threw water bottles," Nawal Soufi, the woman who first reported the incident on Twitter, wrote before the sinking. "Each time a bottle was thrown, the migrants all went to one side of the boat to get water. This caused a serious imbalance which threatened to sink the ship."
The Greek Coast Guard provided a different version of events and said it had monitored the ship throughout the day.
"From 15:30 until 21:00 the Ministry of Shipping's operations room was in repeated contact with the fishing vessel by satellite phone. In all of them they consistently reiterated that they wanted to sail to Italy and they didn't want any assistance from Greece," the Coast Guard said, adding that the merchant vessel's offers for help had also been refused.
Around 1:40 a.m. on Wednesday, the migrant ship reported an engine failure and stopped moving, which was confirmed by Coast Guard vessels nearby. Just after 2 a.m., the vessel made a steep turn, capsized and sank within 10 to 15 minutes, after which a large-scale rescue operation was launched.