Aeromexico plane collides with utility truck at LAX, injuring 8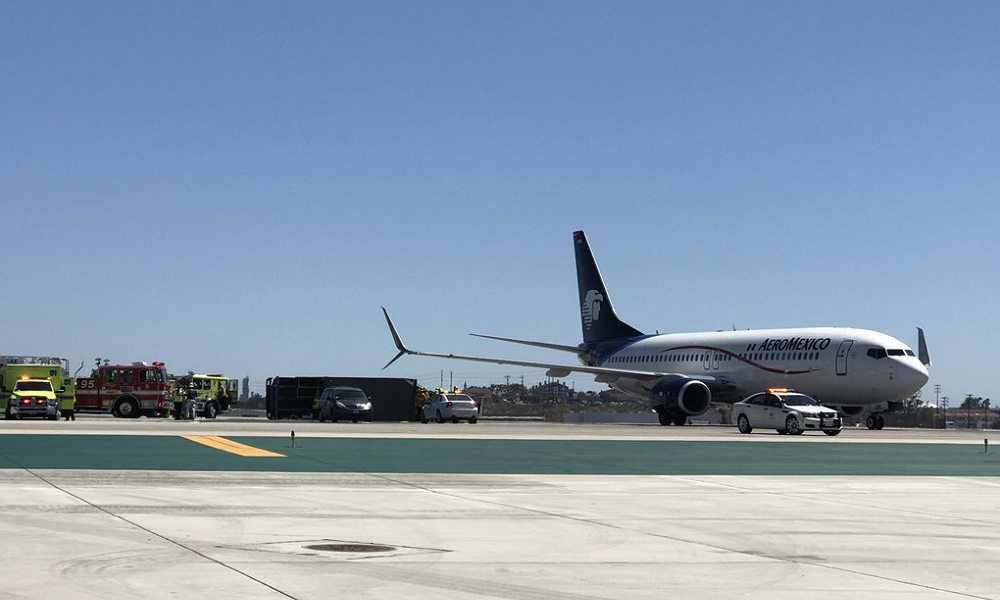 Eight people have been injured, two of them seriously, after an Aeromexico passenger plane collided with a utility truck at Los Angeles International Airport, officials say. Only few details were immediately available.
The accident happened at 2:27 p.m. PT on Saturday when the wing of a Boeing 737-8 struck an airport utility/supply truck on a taxiway near Runway 25R, according to Brian Humphrey, a spokesman for the Los Angeles Fire Department.
"[A] single-aisle commercial passenger jet collided with airport utility/supply vehicle shortly after landing, causing that truck to overturn," Humphrey said in a statement. It was not immediately known what may have caused the collision.
Humphrey said 8 people who were in the truck were injured, including 2 women who suffered serious but non-life-threatening injuries and 6 men who suffered lesser injuries. Emergency services initially reported that one of the victims was in a critical condition, but Humphrey said that was not the case.
The plane suffered damage to its right wing but none of the people on board were injured. AeroMéxico Flight 642 was flying from Mexico City International Airport and was carrying a total of 146 passengers and crew members.
The Federal Aviation Administration (FAA) and the National Transportation Safety Board (NTSB) are expected to investigate the cause of the incident.