Man arrested for 'unlawful entry' at the Russian Embassy in D.C.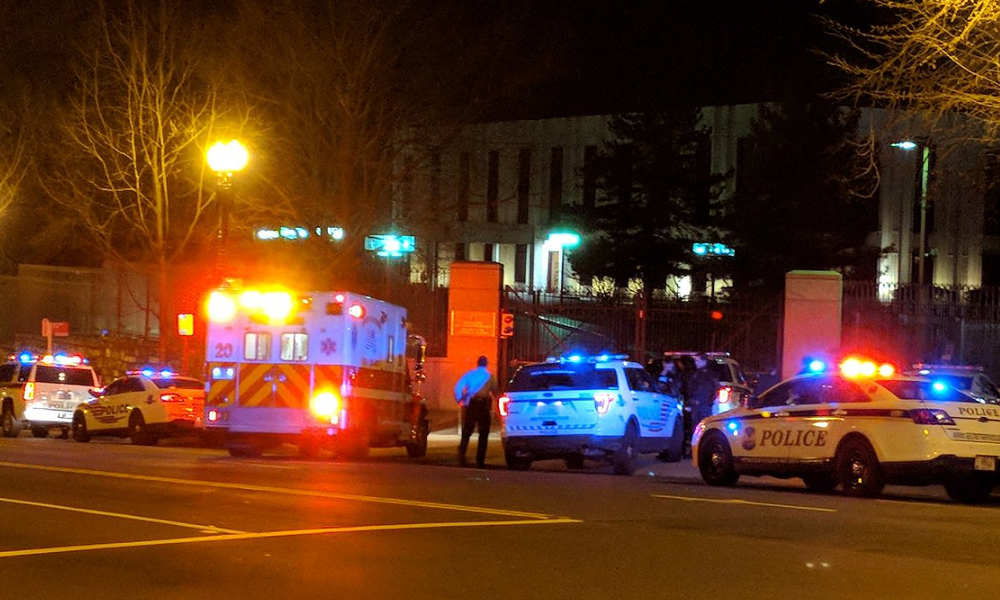 A 29-year-old man has been arrested for unlawful entry at the Russian Embassy in Washington, D.C., police say, but only few details have been released. The man is also a suspect in an assault at a nearby gas station.
The incidents began at about 10:40 p.m. ET on Wednesday when officers from the Metropolitan Police Department were called to an assault at the Sunoco gas station on Wisconsin Avenue NW. Paramedics responded but the victim refused treatment.
A short time later, at 10:59 p.m., officers were called to the Russian Embassy for an "unwanted guest" who had entered the premises. The embassy, also on Wisconsin Avenue NW, is just 900 feet (275 meters) down the street from the gas station.
Details about the circumstances of the incident were not immediately released, but the Metropolitan Police Department confirmed that 29-year-old Alexander Keith Adams, of Northwest D.C., was arrested for Unlawful Entry at the embassy and Simple Assault at the gas station.
Photos and video showed at least 6 emergency vehicles outside the Russian embassy, including an ambulance. The U.S. Secret Service, which is leading the investigation, did not respond to a request for more information.