Arizona Amber Alert: Khaleesi Morales from Peoria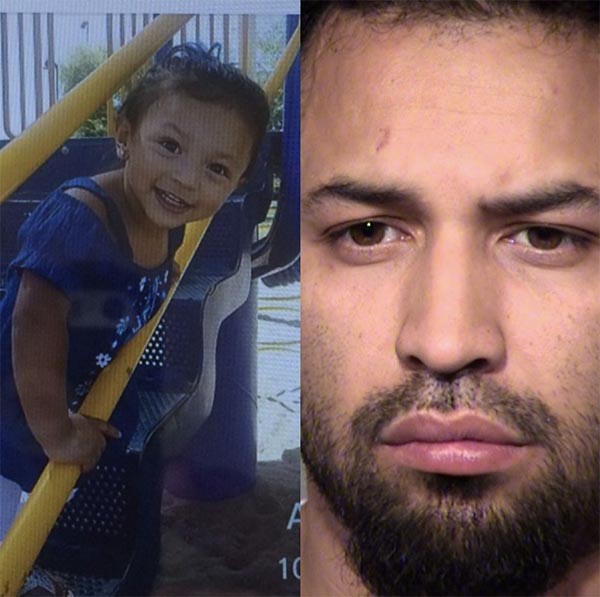 An Arizona Amber Alert has been issued for 2-year-old Khaleesi Morales after she was violently abducted from Peoria, local officials say. Anyone with information is urged to call 911 immediately.
The incident happened at about 6:08 a.m. on Monday when the suspect, 32-year-old Luis Jesus Morales, is accused of going to the 20700 block of North Lake Pleasant Road and violently taking the child.
According to the amber alert, Morales has an Order of Protection against him, stating that he is not allowed to go to the home or having contact with Yesenia Torres and her daughter, Khaleei.
"Luis Morales went to this location, opened a window, broke the screen out, stepped on his juvenile son Luis' hand, assaulted Yesenia, took Khaleei and stole Yesenia's car, heading for [an] unknown location," the amber alert said.
Morales is believed to have taken the child in a grey/silver Toyota Camery with Arizona license plate CBS3780.
Morales is described as a 32-year-old Hispanic male with brown hair and brown eyes, standing 5 feet 10 inches tall. He has a number of tattoos, including a money sign behind his left ear and a triangle with an eye and the script "Mary Jane" on the center of his neck.
Khaleesi is described as a 2-year-old Hispanic female with brown hair and brown eyes, standing 2 feet 6 inches tall and weighing 30 pounds. She was last seen wearing a pink long-sleeved shirt and pink shorts with ruffles.
Anyone who sees the suspect, the victim, or the suspect vehicle is urged to call 911 immediately, or call the Peoria Police Department at 623-773-8311 if you have any other information that could help investigators.