Trump pardons conservative commentator, considers helping Rod Blagojevich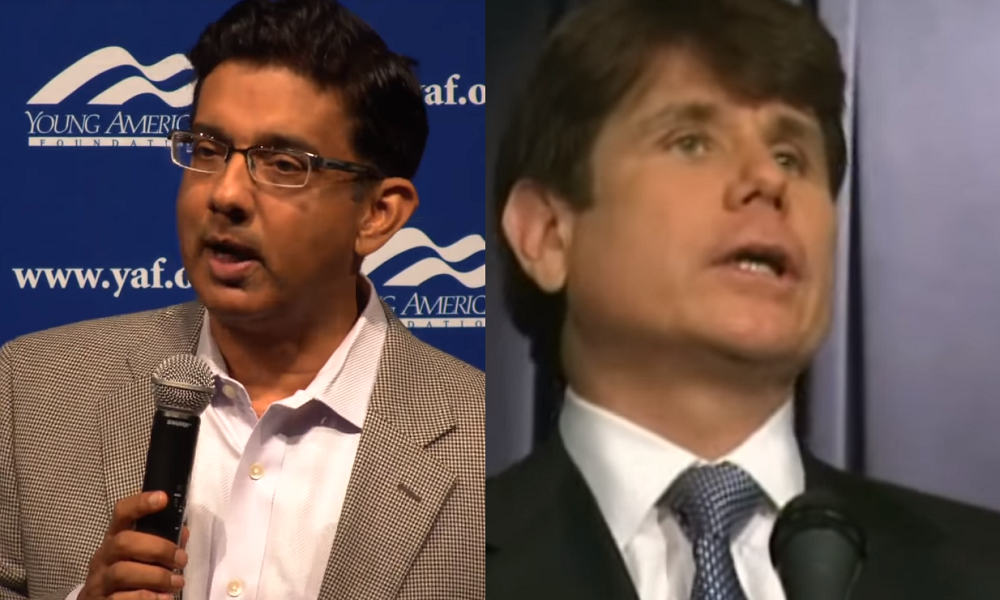 U.S. President Donald Trump on Thursday issued a full pardon to conservative commentator Dinesh D'Souza and said he is considering to commute the sentence of former Illinois Governor Rod Blagojevich.
D'Souza was sentenced to 5 years of probation in September 2014 after he pleaded guilty to making illegal contributions to a U.S. Senate candidate in New York. He also received 8 months at a community confinement center, community service, and a $30,000 fine.
Trump told reporters that he had never met D'Souza, but believes he had been treated "very unfairly" for something "a lot of people" have done. "What should have been a quick minor fine, like everybody else with the election stuff .. what they did to him was horrible," the president said.
Trump added that he is also considering to commute the sentence of former Illinois Governor Rod Blagojevich, a Democrat who was removed from office in 2009 and later sentenced to 14 years in federal prison for corruption. He will become eligible for early release in 2024.
"I thought that he was treated unfairly," Trump said of Blagojevich, who was accused of soliciting bribes in an attempt to sell or trade the U.S. Senate seat left vacant by then-President-elect Barack Obama.
"What he did does not justify 18 years in a jail," said Trump, who incorrectly referred to the length of the former governor's sentence. "Plenty of other politicians have said a lot worse. .. He shouldn't have been put in jail."
Trump said he was also thinking about other cases, such as the one involving TV celebrity and writer Martha Stewart, who was convicted in 2004 for lying to federal prosecutors in connection with the ImClone stock trading case. She was sentenced to 5 months in prison.