Man goes on shooting spree in Toronto, killing 1 and injuring 13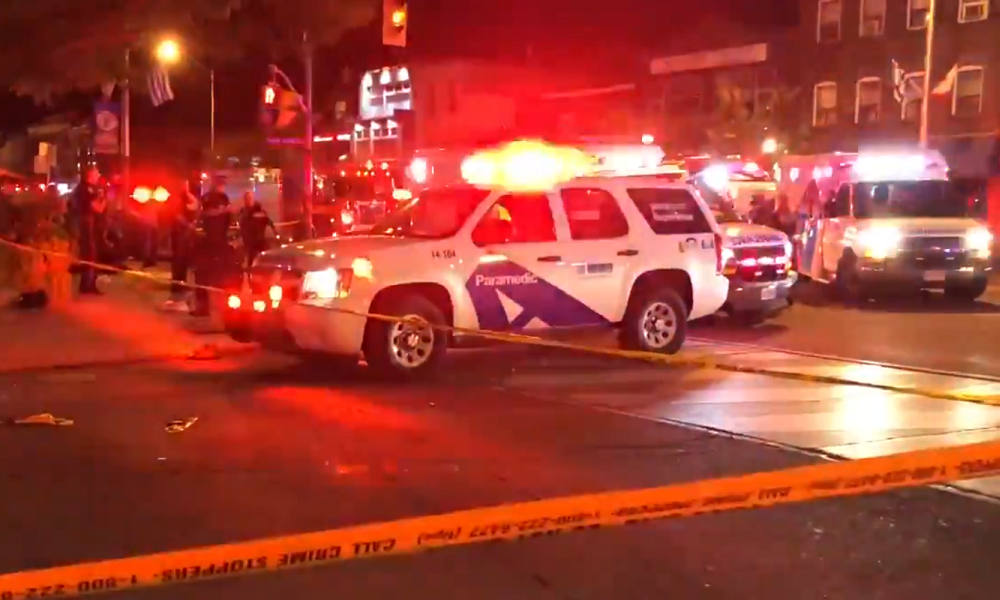 A man has gone on a shooting spree in a busy Toronto neighborhood, killing one person and injuring more than a dozen others, officials say. The shootings appeared to be at random but the motive was not immediately known.
The incident began just after 10 p.m. ET on Sunday when police were called to reports of shots being fired in the area of Danforth and Logan avenues, which is located in the city's Greektown area. Shots were fired at multiple locations.
Toronto Police Chief Mark Saunders said 15 people were shot, including the suspect who was pronounced dead at the scene. One of the victims, a woman, also died and a 9-year-old girl remained in critical condition on early Monday morning.
In a video shared by a witness, a man dressed in black can be seen walking along a sidewalk before he suddenly turns towards an apartment building and opens fire. Three shots can be heard before the video stops.
Chief Saunders said the shooter, whose identity was not immediately known, exchanged fire with police before he was killed. One official said the suspect died of a self-inflicted gunshot wound, but Saunders could not confirm that.
A motive for the shooting spree was not immediately known. Investigators have asked anyone who witnessed the shooting to call homicide detective at 416-808-7400 or go to a nearby police station.
Chief Saunders said it was too early to say whether the attack was linked to terrorism. Sunday's shooting came less than two weeks after police in the city were put on high alert due to an unspecified terror threat.
"Tonight, a despicable act has been perpetrated on the Danforth in our city," Toronto Mayor John Tory said. "On behalf of all Toronto residents, I am outraged that someone has unleashed such a terrible attack on our city and people innocently enjoying a Sunday evening."
Tory, who called the shooting an attack against the entire city, added: "I would ask people not to draw any conclusions until we have more information from the police. I have total confidence in the ability of our police to determine what happened here."
NEW: Video shows gunman opening fire in busy Toronto neighborhood, shooting at least 9 people before killing himself pic.twitter.com/FOvq2pscTc

— BNO News (@BNONews) July 23, 2018
BREAKING: Multiple people shot on Danforth Av in Greektown. Victims are spread across many blocks. pic.twitter.com/PvobE1so81

— Jeremy Cohn (@JeremyGlobalTV) July 23, 2018