Twitter says it won't ban conspiracy theorist Alex Jones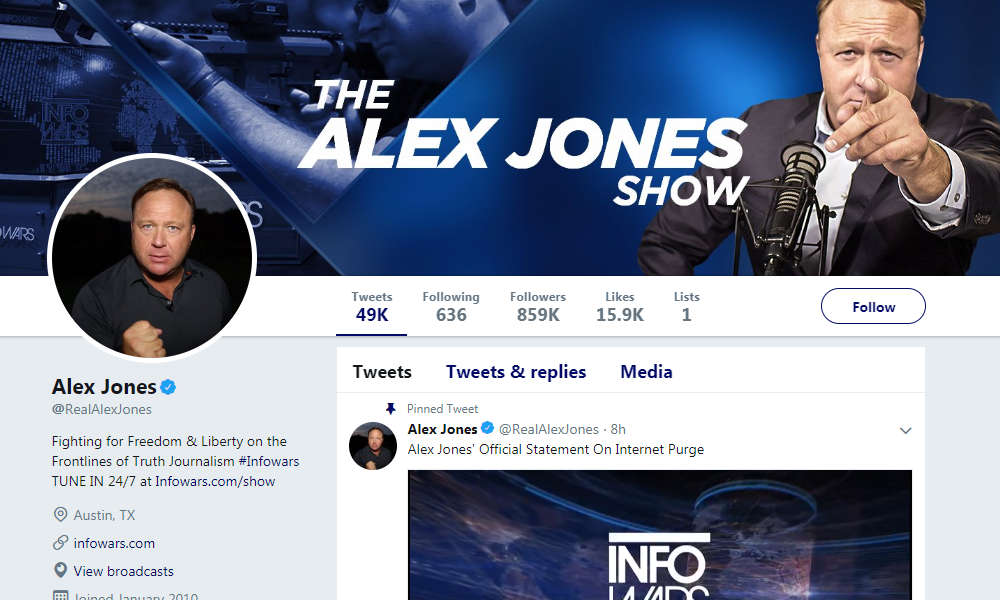 A day after leading tech companies moved to ban Alex Jones and his website, Twitter said on Tuesday night that it won't ban the notorious conspiracy theorist, noting that he hasn't violated the company's rules.
"We didn't suspend Alex Jones or Infowars yesterday," Twitter founder Jack Dorsey said in a tweet. "We know that's hard for many but the reason is simple: he hasn't violated our rules. We'll enforce if he does."
Dorsey, who is facing pressure to combat abuse and propaganda on the platform, said Twitter will continue to promote a "healthy conversational environment" by ensuring that tweets aren't artificially amplified.
"We're going to hold Jones to the same standard we hold to every account, not taking one-off actions to make us feel good in the short term, and adding fuel to new conspiracy theories," Dorsey said.
He added: "If we succumb and simply react to outside pressure, rather than straightforward principles we enforce (and evolve) impartially regardless of political viewpoints, we become a service that's constructed by our personal views that can swing in any direction. That's not us."
Rather than banning people like Jones, Dorsey explained that journalists should work to refute unsubstantiated rumors, which will allow people to form their own opinions. "This is what serves the public conversation best," he said.
Dorsey's comments came just a day after leading tech companies moved to ban Jones and his website, both of which have been criticized for spreading fake news, conspiracy theories, and hate. Jones, who was once described as a "performance artist" by his own lawyer, disputes that.
Facebook, YouTube, iTunes, Spotify, and Pinterest all moved to ban Jones and his website in a matter of hours. On Tuesday, MailChimp and Disqus joined in, leaving Twitter as one of the last companies to provide a platform for Jones and his website.