Plane quarantined at JFK after 18 people fall ill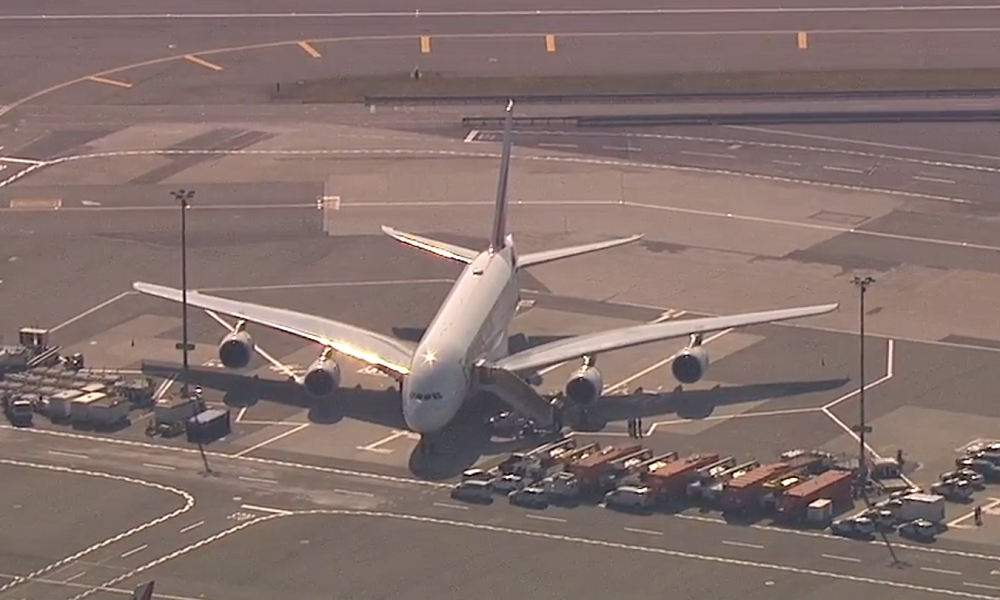 Emirates Flight 203 was quarantined at New York's JFK Airport after at least 18 people fell ill during a flight from Dubai, local officials say. Investigators are looking at flu as a possible cause.
The plane, an Airbus A380, was flying from Dubai International Airport in the United Arab Emirates when a number of passengers reported feeling ill. The aircraft, which was carrying 521 people, landed at JFK at 9 a.m. ET.
The plane was quarantined as a precaution and a large number of emergency services responded to the scene, including law enforcement and the Centers for Disease Control and Prevention (CDC).
City spokesman Eric Phillips confirmed that 10 people were taken to Jamaica Hospital by 11 a.m. He said 8 others were also showing symptoms and they were being held for treatment and a possible transport to hospital.
"All others will disembark shortly," Emirates said in a statement. At least 432 people were taken off the plane by 11:45 a.m. and they were cleared to continue their travel.
It was not immediately known what may have caused the illness, but Phillips said investigators were looking at flu as a possible cause. WABC-TV reported that the sick passengers were coughing with fevers over 100°F (37.7°C).
A row of ambulances #EK203 pic.twitter.com/iXn1bbjmad

— Larry Coben (@LarryCoben) September 5, 2018
— Bite Advice (@Bite_Advice) September 5, 2018
Getting off plane & getting temperatures checked. The girl in front of me is pregnant, poor thing! #emirates #emirates203 pic.twitter.com/qRZaCBijZ1

— Erin Sykes (@SykesStyle) September 5, 2018