Typhoon Jebi makes landfall in Japan, flooding airport and causing damage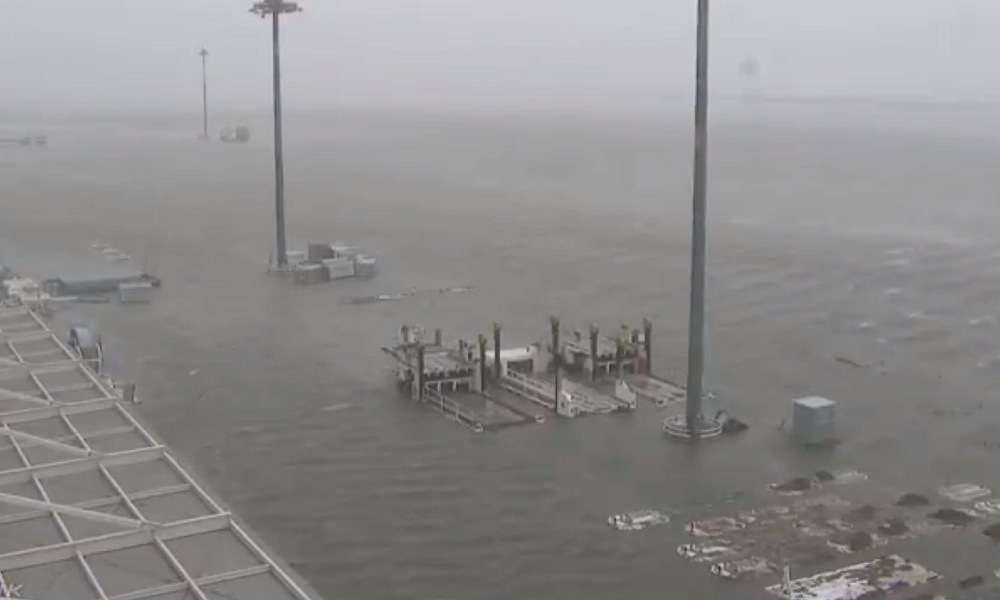 Typhoon Jebi has made landfall in western Japan, flooding a major airport on a man-made island and leaving a trail of destruction, officials say. At least 7 people were killed and more than 200 others were injured.
Jebi, which means "swallow" in Korean, made landfall on the island of Shikoku at around noon on Tuesday. It was the strongest typhoon to hit one of Japan's main islands since 1993, when Typhoon Yancy killed 48 people.
As Jebi made its second landfall on the main island of Honshu, it caused significant flooding at Kansai International Airport, which is located on a small, man-made island off Izumisano.
Video from the airport showed that the entire island was submerged in water, trapping people inside the airport buildings. A shelter was set up in the ballroom of the airport's hotel.
Nearly 3,000 people were left stranded, but there were no immediate reports of injuries at the airport. The water started to recede just after 4 p.m. and some parts of the airport were dry by 4:55 p.m.
While the island was flooded, a fuel tanker carrying 11 people crashed into Sky Gate Bridge R, which links the airport to Izumisano. The damage has forced the closure of the bridge but no crew members were injured.
Operations at the airport have been suspended and the Transport Ministry said it's unknown how long it could take to resume flights. All Nippon Airways said it has canceled hundreds of domestic flights.
Damage and flooding was also reported in other parts of the affected area, leaving up to 1.6 million homes without power. Vehicles were seen being blown away, rooftops were torn off, and some buildings partially collapsing.
The Kyodo news agency said at least 7 people were killed as a result of Typhoon Jebi, but details about the victims were not immediately available. More than 200 others have been injured, according to the report.
Get important breaking news as it happens. Click here to sign up for email alerts.
台風21号 近畿や四国の沿岸で潮位が急激に上昇
関西空港 広範囲で浸水(午後3時前)https://t.co/Ew88FlL9PT #nhk_news pic.twitter.com/yk3g8815p9

— NHKニュース (@nhk_news) September 4, 2018