Trains collide in Turkish capital Ankara, killing at least 9 people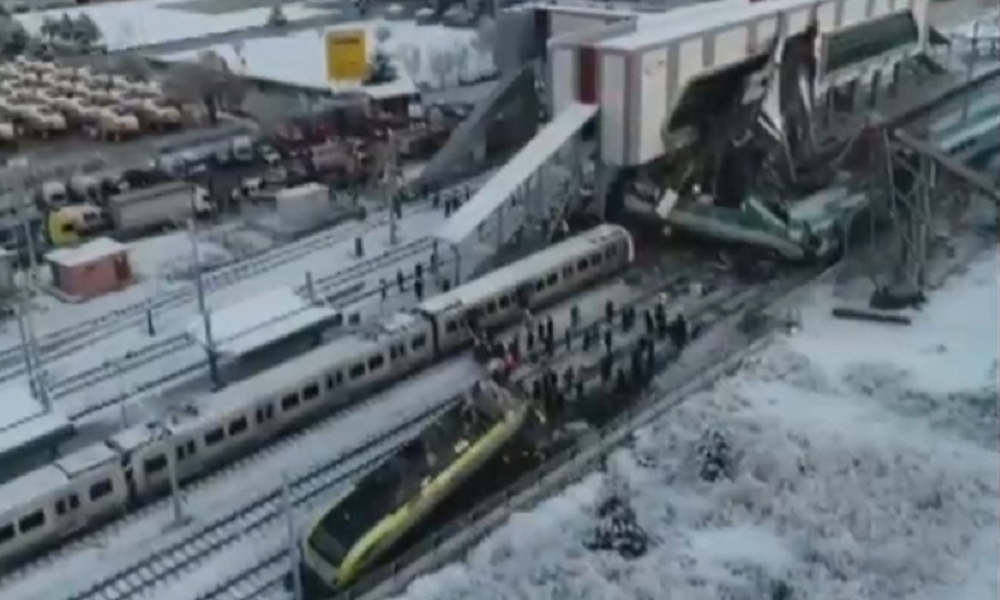 A high-speed passenger train has crashed into a locomotive in the Turkish capital of Ankara, causing a pedestrian overpass to collapse and killing at least 9 people, local officials say. Dozens more were injured.
The accident happened just after 6:30 a.m. local time on Thursday when the train struck a locomotive outside the Marşandiz railway station in western Ankara. One of its carriages derailed and crashed into a pedestrian overpass.
Footage from the scene showed that the overpass collapsed and parts of it fell onto the train, causing major damage. Rescue personnel worked for several hours to search for people who were trapped underneath the rubble.
Governor Vasip Sahin confirmed that 9 people were killed and 47 others were injured, some of whom suffered serious injuries. Three engineers are among those killed.
Sahin said the locomotive, which was being used to check the tracks at the station after snowfall overnight, should not have been using the track at the time of the crash. An investigation is underway.
More than 200 people were on board the high-speed passenger train, which was leaving the capital to head for Konya. It was not immediately clear if anyone was walking on the overpass when it was struck by the train.
Ankara'daki Yüksek Hızlı Tren kazasından ilk görüntüler… pic.twitter.com/luJp8rLa2T

— Posta Gazetesi (@Postacomtr) December 13, 2018