Gunman opens fire near Christmas market in Strasbourg, killing 3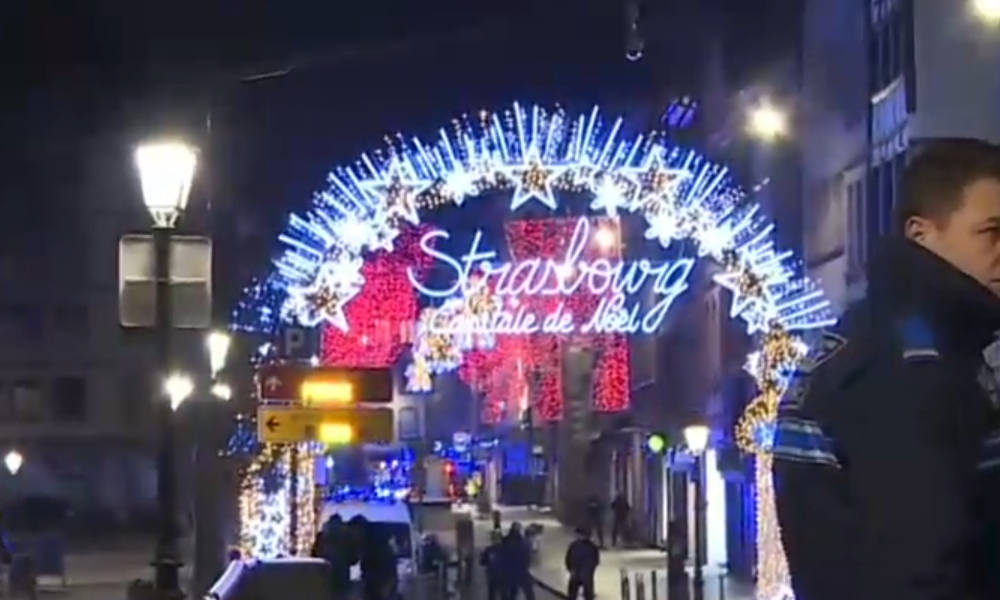 A gunman has opened fire near a Christmas market in the French city of Strasbourg, killing at least three people and injuring 12 others, officials and witnesses say. It is being treated as an act of terrorism.
The attack began just after 8 p.m. on Tuesday when a man opened fire in the city center, which is home to one of Europe's biggest Christmas markets. People were seen running and screaming in video shared on social media.
Soldiers who were guarding the Christmas market exchanged fire with the suspect, but he was able to steal a taxi and fled the scene. He remained at large on early Wednesday morning and a manhunt was underway.
Hundreds of police officers and soldiers have been deployed to the area to search for the suspect, who has been identified as a 29-year-old man. He was already known to intelligence services and was on a watchlist for being a possible security risk.
With no information about the whereabouts of the suspect, people in the city were urged to shelter in place and the seat of the European Parliament remained on lockdown for hours. The shelter in place was lifted at 3:20 a.m., but authorities warned people to remain vigilant.
Interior Minister Christophe Castaner confirmed that 3 people were killed in the shooting and 12 others were injured, including 6 people who were reported to be in a critical condition.
In response to the attack, the national threat level was raised to "Attack Emergency," the highest level on a three-step scale. Castaner said it will help authorities to bolster security at other locations in France.
A motive for Tuesday's attack was not immediately known, but investigators are treating it as an act of terrorism. French media reported that grenades were found at the suspect's home when police tried to arrest him earlier in the day in connection with a robbery.
Strasbourg Mayor Roland Ries said the Christmas market, which draws up to 2 million visitors each year, will be closed on Wednesday. Other events in the city have also been canceled as a precaution.
France has experienced a number of terrorist attacks in recent years. In November 2015, a group of ISIS militants opened fire at restaurants and a music venue in Paris, killing 130 people and injuring hundreds more, making it the deadliest attack in France since the end of World War II.
DIRECT – Fusillade à Strasbourg : des blessés dans le centre ville https://t.co/CBjIywf3Rd pic.twitter.com/vONXqAf8tQ

— France Bleu Alsace (@BleuAlsace) December 11, 2018