Trump supporters raise more than $10 million for border wall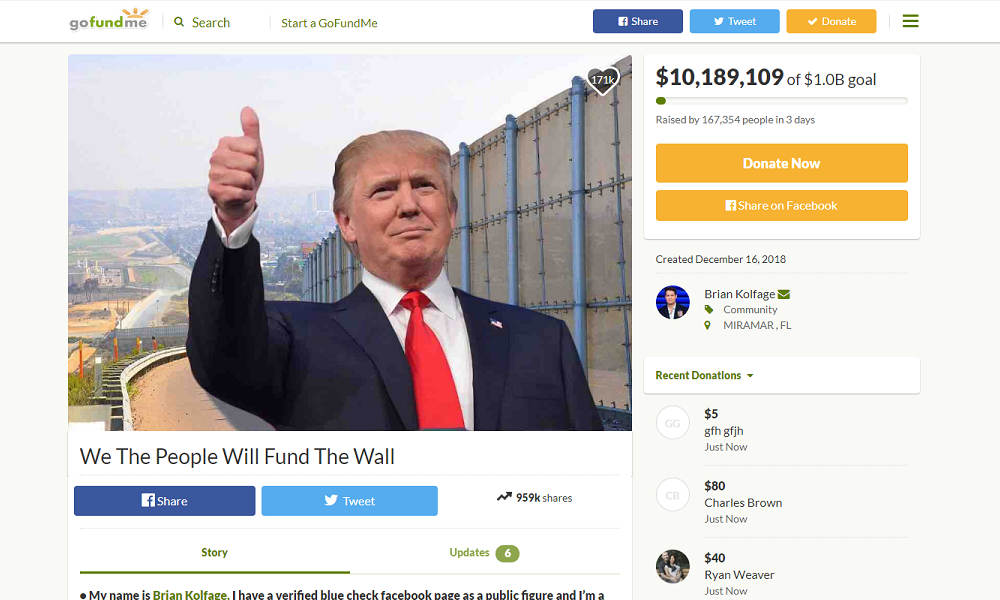 Supporters of U.S. President Donald Trump have raised more than $10.9 million to help build a wall on the Mexican border, making it one of the biggest ever crowdfunding campaigns on GoFundMe.
The campaign, which was created on Monday by U.S. Air Force veteran Brian Kolfage, hit $10 million on Thursday night before reaching $10.9 million a few hours later. More than 180,000 contributions have been made, with the biggest one being a $50,000 donation.
Kolfage, a triple amputee veteran who served in Iraq, said the money will be donated to the U.S. government. "If we can fund a large portion of this wall, it will jumpstart things and will be less money Trump has to secure from our politicians," he said.
It's unknown how much it would cost to build a wall along the U.S.-Mexico border, but estimates range as high as $25 billion. Kolfage hopes to raise at least $1 billion with his campaign, which is called "We The People Will Fund The Wall."
It's one of the biggest campaigns in GoFundMe history. Only 3 have raised more: $11.8 million was raised for the victims of the Las Vegas mass shooting, $15.1 million was raised for victims of a bus crash in Canada, and $21.5 million was raised for the Time's Up organization.
Trump made the border wall one of his biggest campaign promises and said he'd make Mexico pay for it, but Mexico has refused to do so. His efforts to use taxpayer money have been met with opposition in Congress.
On Thursday night, the U.S. House approved a stopgap funding bill that includes $5 billion for Trump's border wall, but it could fail in the U.S. Senate. Trump has rejected a funding bill that doesn't include money for his wall and failure to reach a compromise on Friday would lead to a partial government shutdown.