Patty Mayo, who poses as sheriff's deputy on YouTube, revealed as fake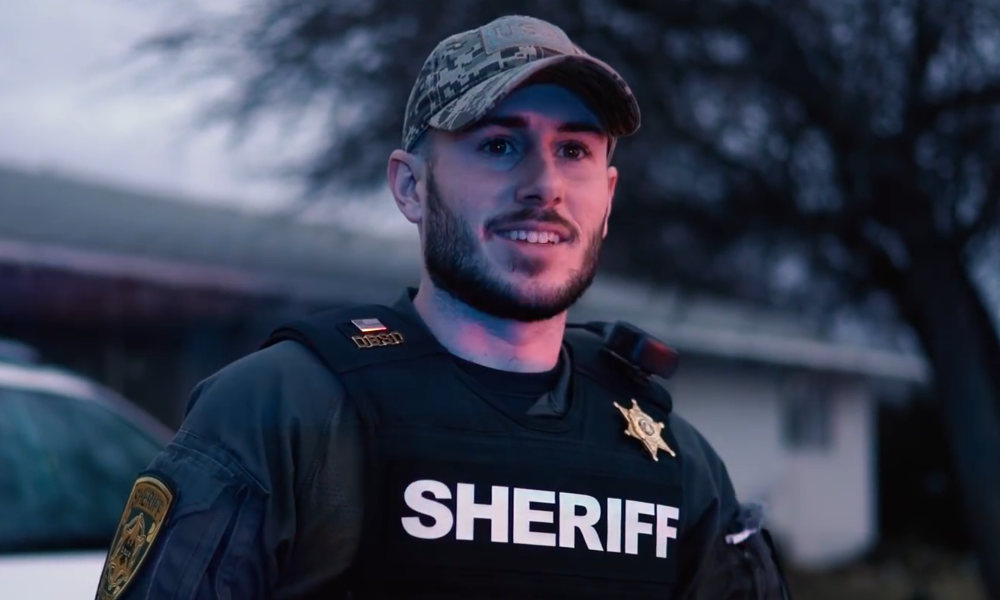 Patty Mayo, who poses as a sheriff's deputy in YouTube videos which have been viewed 300 million times, is not affiliated with law enforcement and those who appear in his videos are paid actors, U.S. officials say.
Mayo initially presented himself as a bounty hunter in California, but over the past few months he has represented himself as a sheriff's deputy, complete with uniform, a vehicle with emergency lights and sirens, and what appears to be a handgun and Taser.
"Sheriff's Department!," Mayo says in one of his videos, ordering a man to get out of a home. It uses a familiar format that is used by TV shows that follow real police officers, but some law enforcement agencies are making their own videos for YouTube.
Mayo and his crew film their videos in Deschutes County in Oregon, pretending to be deputies from DBSO – a fictional sheriff's office. But there's no disclaimer that says the videos were staged, and many people who comment on them discuss the events as if they were real.
"He is an actor and the uniform he wears is a costume," the Oregon State Sheriffs' Association said in a statement. "Additionally, everyone in his videos are part of his production crew or paid actors/actresses."
While real police officers are not able to make money off their online activities, Mayo generates revenue through advertising on YouTube. He also encourages people to buy merchandise, including hats, wallets, backpacks, clothes, and patches.
Because everyone involved knows it is fictional, Mayo does not appear to be breaking the law, and there is no indication that he has represented himself as a police officer in public. Members of the team also wear bright yellow vests that are marked "FILM CREW."
"He's been very good about calling in to dispatch and communicating with law enforcement on the date and time that he is going to be making a video .. so that we don't have a situation where we have a real cop showing up at a fake law enforcement scenario," Sgt. William Bailey, of the Deschutes County Sheriff's Office, told KTVZ-TV.
The Oregon State Sheriffs' Association says deputies have met with Mayo and advised him that filming his videos in public "cannot continue" without the proper security, road closures, and possibly permits. They also told him and other actors to not wear their costumes while out in public.
"Someone will say, 'hey, thanks for your service,' and we say, 'oh no, no, no, we're here for production, we're not sheriff's officers,'" Mayo told KTVZ. "The intent is to create a production, it's not to commit a crime. So that's why before we even purchased the cars for the show, or any equipment, we sat down with the police department and said, 'this is what we'd like to do, what do you think?'"
Mayo's YouTube channel has been growing quickly and currently has 4.7 million subscribers. His videos have accumulated 300 million views on YouTube alone, and 40 million on his Facebook page, which is updated less frequently and where he labels himself a "comedian."
Some of his recent videos include: "Husband cheating the family gets what he deserves," "Model under arrest tries to take me home!," "I love tasering boyfriends who hit their girlfriends," and "creep hiding under moms bed gets tasered."