Prosecutors: U.S. Coast Guard officer planned to carry out terror attacks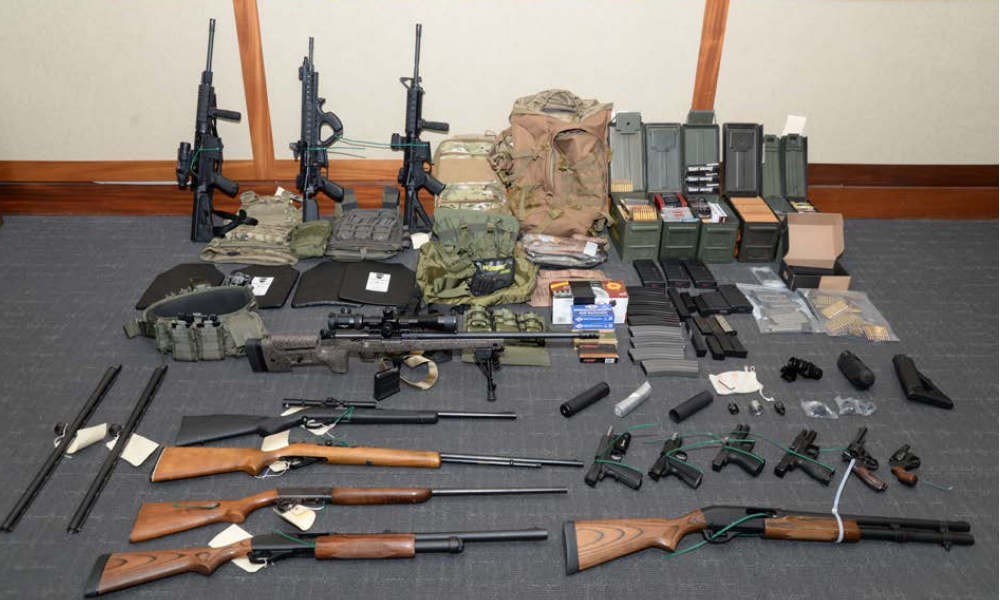 A U.S. Coast Guard lieutenant who was arrested earlier this month is a self-identified white nationalist who was bent on committing violence and compiled a list of Democratic politicians and media figures, prosecutors say, calling him a "domestic terrorist."
Christopher Hasson, 49, who worked as an acquisitions officer at the U.S. Coast Guard headquarters in Washington, D.C., was arrested last Friday on weapons and drug charges, but a subsequent investigation uncovered his alleged desire to carry out a terrorist attack.
"I am dreaming of a way to kill almost every last person on the earth," Hasson wrote in a draft email in June 2017, according to court documents released on Wednesday. "Interesting idea the other day. Start with biological attacks followed by attack on food supply. Have to research this."
Months later, in September 2017, he sent himself a draft letter which was addressed to a neo-Nazi leader whose identity was not revealed in court documents. In the letter, he identified himself as a white nationalist and advocated for "focused violence" in order to establish a white homeland.
Prosecutors allege that Hasson conducted thousands of online searches for neo-fascist and neo-Nazi literature, including a manifest by Anders Behring Breivik, the neo-Nazi who carried out a deadly attack in Norway in 2011, killing 77 people.
A review of Hasson's internet activity revealed searches such as "most liberal senators," "where do most senators live in dc," "do senators have ss [Secret Service] protection," and "are supreme court justices protected." He also looked for the home of MSNBC host Joe Scarborough.
It's unclear if Hasson had concrete plans to carry out an attack, but last month, on January 17, he allegedly compiled a list of prominent Democratic members of Congress, including U.S. House Speaker Nancy Pelosi and U.S. Senators Chuck Schumer, Elizabeth Warren, Alexandria Ocasio-Cortez, Cory Booker, Kamala Harris, and Tim Kaine. It also included media figures such as Chris Hayes of MSNBC and Don Lemon of CNN.
That same day, Hasson also used Google to perform a number of searches, including: "what if trump illegally impeached," "best place in dc to see congress people," "where in dc to congress live," "civil war if trump impeached," and "social democrats usa".
A search of his home in Silver Spring, Maryland, revealed 15 firearms, including rifles, and more than 1,000 rounds of ammunition, according to prosecutors. They were purchased over a period of two years.
"The defendant intends to murder innocent civilians on a scale rarely seen in this country. He must be detained pending trial," prosecutors said in a court filing. "The defendant is a domestic terrorist, bent on committing acts dangerous to human life that are intended to affect governmental conduct."