Virginia Governor Northam 'deeply sorry' for racist photo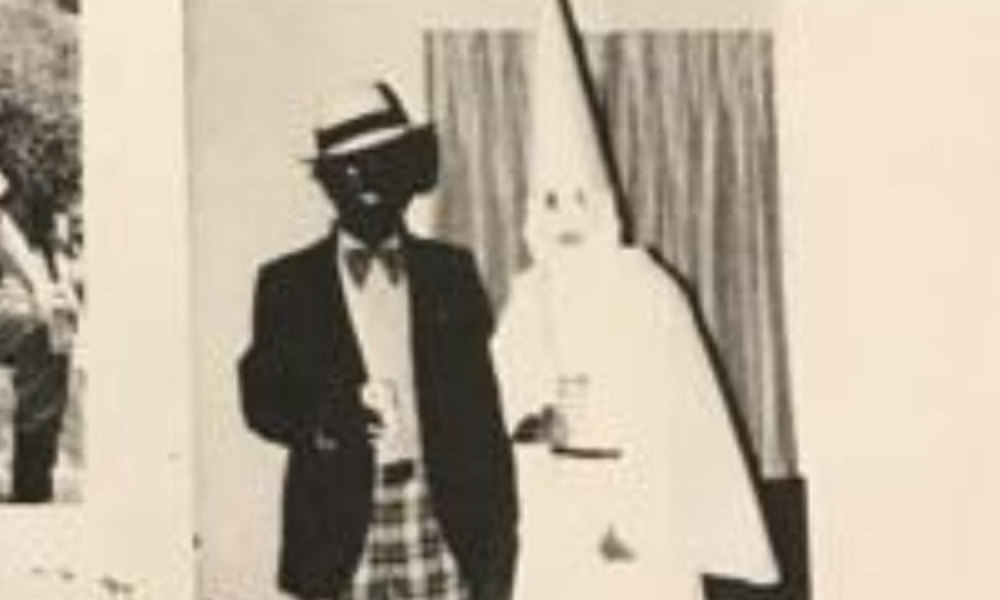 Virginia Governor Ralph Northam is facing pressure to resign after he confirmed that he appeared in a photo that shows a man in blackface and another in an outfit used by the Ku Klux Klan.
The photo appeared in a yearbook from Eastern Virginia Medical School in 1984, when the governor was 25 years old. It's unclear whether Northam is the one in blackface or the one wearing an outfit that is used by the KKK.
"I am deeply sorry for the decision I made to appear as I did in this photo and for the hurt that decision caused then and now," Northam, a Democrat, said in a statement, in which he acknowledged that the photo is "clearly racist and offensive."
"This behavior is not in keeping with who I am today and the values I have fought for throughout my career in the military, in medicine, and in public service," he said. "But I want to be clear, I understand how this decision shakes Virginians' faith in that commitment."
Northam added: "I recognize that it will take time and serious effort to heal the damage this conduct has caused. I am ready to do that important work. The first step is to offer my sincerest apology and to state my absolute commitment to living up to the expectations Virginians set for me when they elected me to be their Governor."
An hour later, a copy surfaced of a yearbook at the Virginia Military Institute, which described Northam as "coonman." The meaning of the nickname was not immediately clear, but coon is known as a racial slur.
The photo comes just days after Northam defended a bill that would lift restrictions on late-term abortions in Virginia. Some interpreted his comments as supporting infanticide, which he strongly denied.
The photo of the yearbook was first released by the right-wing website Big League Politics, which claims that Northam is the one in blackface. The photo's authenticity was later verified by the Virginian-Pilot newspaper and other media.
Virginia Senate Minority Leader Richard Saslaw, a Democrat, defended Northam. "His whole life has been about exactly the opposite and that's what you need to examine, not something that occurred 30 years ago," Saslaw told the Washington Post.
But by Friday night, pressure was growing for Northam to resign.
"Blackface in any manner is always racist and never okay," said Derrick Johnson, the president of the civil rights organization NAACP. "No matter the party affiliation, we can not stand for such behavior, which is why the NAACP is calling for the resignation of [Northam]."
A number of high-profile Democrats also called for Northam's resignation, including U.S. Senator Kamala Harris and former U.S. housing chief Julian Castro, both of whom are running for president.
"This is a deeply disturbing and offensive photograph in need of an immediate explanation by the Governor," Republican leaders of the Virginia General Assembly said in a statement, which was released before Northam's response.
Last month, Florida Secretary of State Michael Ertel resigned after photos emerged that showed him in blackface with red lipstick and earrings at a Halloween party in 2005. He was also wearing a shirt that said "Katrina Victim."
My fellow Virginians, earlier today I released a statement apologizing for behavior in my past that falls far short of the standard you set for me when you elected me to be your governor. I believe you deserve to hear directly from me. pic.twitter.com/1rSw1oxfrX

— Ralph Northam (@GovernorVA) February 2, 2019
#BREAKING: Governor Ralph Northam's EVMS yearbook page from 1984 shows men in Klansman costume, blackface; no comment yet from the governor's office. More details to come on @13NewsNow pic.twitter.com/2C9QuDd4Gk

— 13News Now (@13NewsNow) February 1, 2019