At least 49 dead in New Zealand mosque shootings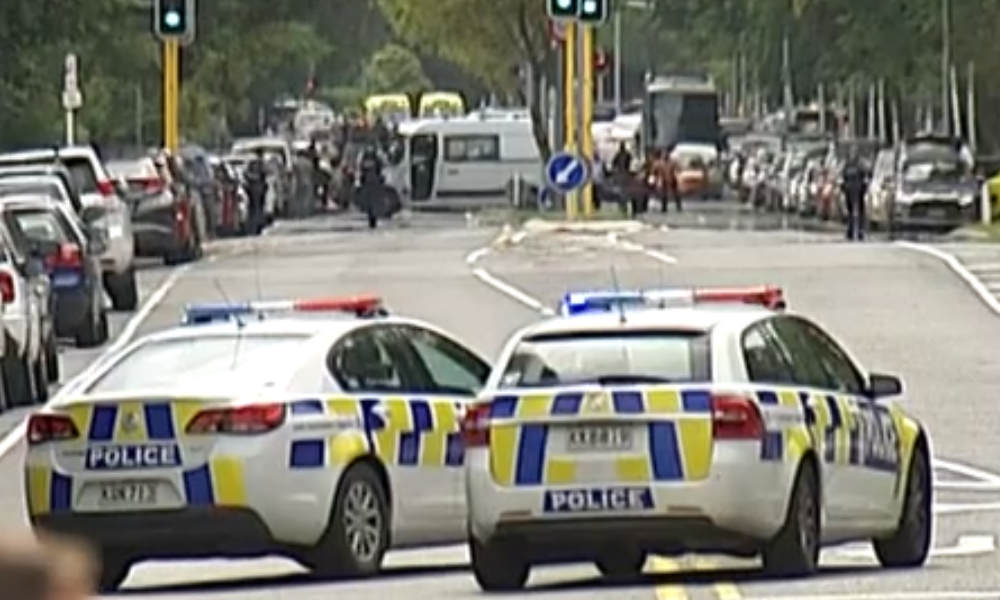 A white nationalist has opened fire at two mosques in Christchurch, killing nearly 50 people and injuring more than 40 others, local officials say, making it one of the worst shootings in modern history.
The incident began at 1:40 p.m. local time on Friday when the suspect, a 28-year-old man from Australia, walked into the Masjid Al Noor Mosque on Deans Avenue. He was live-streaming on Facebook as he opened fire.
The footage shows the man shooting two people at the entrance of the mosque where worshippers were gathering for Friday prayers. He then calmly walked into a room where dozens of people were trying to hide and opened fire, shooting the victims repeatedly.
Outside, the man continued by firing at pedestrians, including a woman who appeared to be fleeing from the mosque. He then got into a vehicle and drove off but continued to fire as he drove down the street.
A short time later, a second shooting – which was not live-streamed – took place at the Linwood Islamic Centre, about 6 kilometers (3.7 miles) east of the first attack. The suspect fled the scene and was later taken into custody.
At least 41 people were killed at the Masjid Al Noor Mosque and 7 others were killed at the Linwood Islamic Centre, according to officials. Another victim died at a local hospital, raising the total death toll to 49 and making it New Zealand's worst-ever mass shooting.
"This is one of New Zealand's darkest days," Prime Minister Jacinda Ardern said.
In addition to those killed, at least 48 gunshot victims are being treated at Christchurch Hospital, according to David Meates, the Chief Executive of the Canterbury District Health Board. He said additional gunshot victims were taken to other health facilities in the region.
Meates said young children are among the victims and the injuries range from critical to minor. "Twelve operating theatres are currently in use and due to the nature of some of the injuries, many people will need multiple surgeries," he said.
In a 91-page manifesto posted on social media, the suspect described himself as a white nationalist and railed against mass immigration, saying it would result in the "complete racial and cultural replacement of the European people." He further said he wanted to take revenge for those killed in terrorist attacks.
Explaining why he carried out the attack, the suspect wrote: "To most of all show the invaders that our lands will never be their lands, our homelands are our own and that, as long as a white man still lives, they will NEVER conquer our lands and they will never replace our people."
In addition to the suspected shooter, two other people were also taken into custody, police said, but their role in the attack – if any – was not immediately clear. Police Commissioner Mike Bush said 2 improvised explosive devices were found on the suspect's car.