Crane collapses onto street in Seattle, killing 4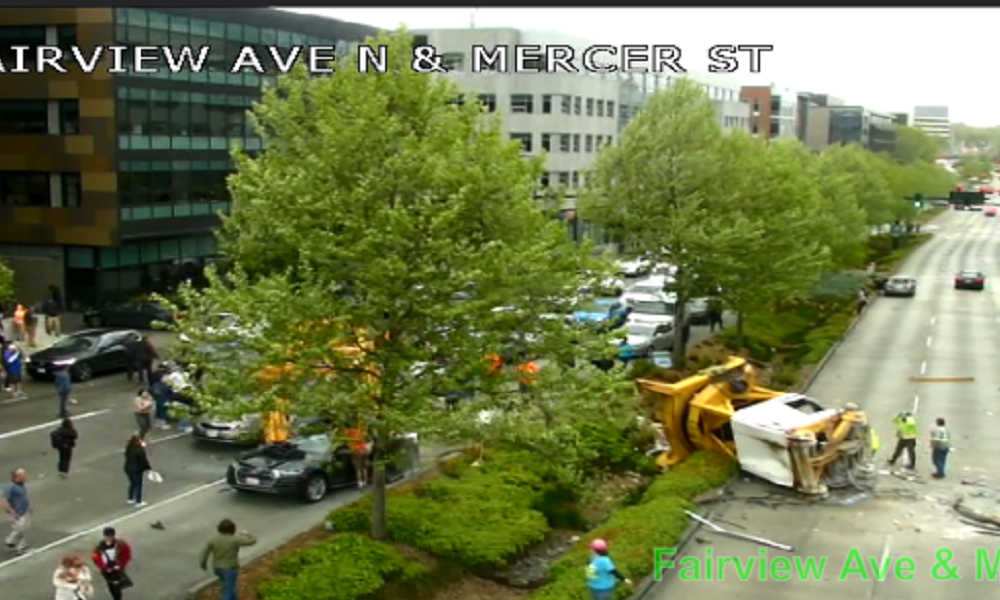 A construction crane has collapsed near downtown Seattle, hitting the Google building it was positioned on and crushing a number of cars in the street below, officials and witnesses say. Four people were killed.
It happened just after 3:30 p.m. PT on Saturday when the crane, which was positioned on top of a Google building under construction, went down on Mercer Street in the South Lake Union neighborhood.
One half of the crane struck the top of the building while the other half plunged onto the street below, hitting multiple vehicles, according to video from the scene. Six cars were hit, one of which suffered the worst damage.
Seattle Fire Chief Harold Scoggins said four people were killed, including two crane operators and two people in separate vehicles. Four others, including a mother and her daughter, suffered non-life threatening injuries.
The cause of Saturday's accident was not immediately known.
The Google site in South Lake Union will have four six-story office buildings when it is completed later this year. Just a short distance from Amazon's headquarters, it will also be home to more than 150 residential units.
Crane collapse @ Mercer and Fairview. Saw it fall from my apartment a block away. Hope no one was hurt. #crazy pic.twitter.com/kl475YkMCv

— Dorion (@dorion) April 27, 2019
The incident at Fairview Ave N and involved a crane that fell into traffic. 5 cars were crushed. There are a total of 4 fatalities, and 3 injured patients that have been transferred to the hospital. pic.twitter.com/HM3PBZ5Udt

— Seattle Fire Dept. (@SeattleFire) April 27, 2019