Large fire destroys Japan's Shuri Castle, a World Heritage Site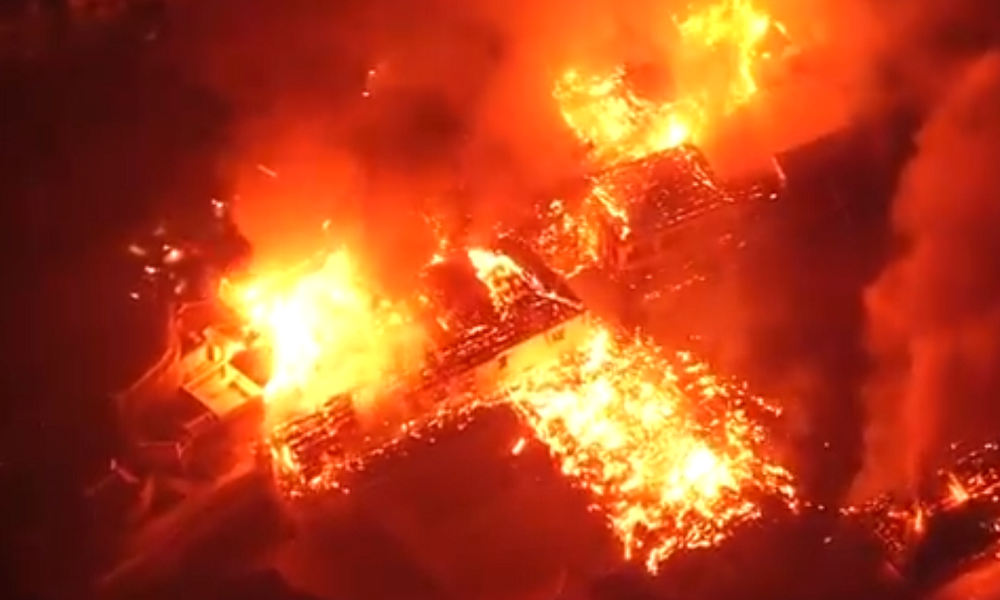 A massive fire engulfed Shuri Castle in southern Japan on Thursday, destroying much of the World Heritage Site which dates back to the 14th century as the Ryukyu Kingdom's royal palace, officials and witnesses say. It took hours to get the blaze under control.
The fire broke out at about 2:40 a.m. local time on Thursday when firefighters were called for a report of smoke coming from Shuri Castle in Naha, a city on Japan's southern island of Okinawa. The cause of the blaze was not immediately known.
Officials said the fire appeared to have broken out at or near the castle's main hall and quickly spread. Footage from the scene showed multiple buildings completely engulfed in flames, and it took hours to get the blaze under control. The fire was extinguished on early Thursday afternoon, about 11 hours after it started.
Japanese broadcaster NHK said seven buildings at the castle grounds were destroyed, including the main hall and the north and south halls. There were no reports of injuries, but one firefighter was taken to hospital after suffering dehydration.
Shuri Castle is an icon of Okinawan culture and was the most important castle of the Ryukyu Kingdom, serving as both the royal residence and the central government office. Originally built in the late 14th century, it is part of a UNESCO World Heritage Site under the collective title "Gusuku Sites and Related Properties of the Kingdom of Ryukyu."
Most of Shuri Castle was destroyed during the Battle of Okinawa during World War II, but the main hall was restored in 1992 and other buildings were reconstructed in 2000. It was not immediately known if the castle will be rebuilt once again.
BREAKING: Aerial footage shows devastation at the site of Shuri Castle in Japan, a UNESCO World Heritage Site which dates back to the 14th century pic.twitter.com/UdOCeh7pkN

— BNO News (@BNONews) October 30, 2019
WATCH: At least 1 building completely destroyed as fire breaks out at Shuri Castle in Japan pic.twitter.com/sbz7kQbAVa

— BNO News (@BNONews) October 30, 2019
首里城燃えてるって。。大丈夫なの!?!? pic.twitter.com/aUoq1DrZci

— 餅になりたいもち粉 (@mochanote1) October 30, 2019