Tornado injures 10 at U.S. Navy base Kings Bay in Georgia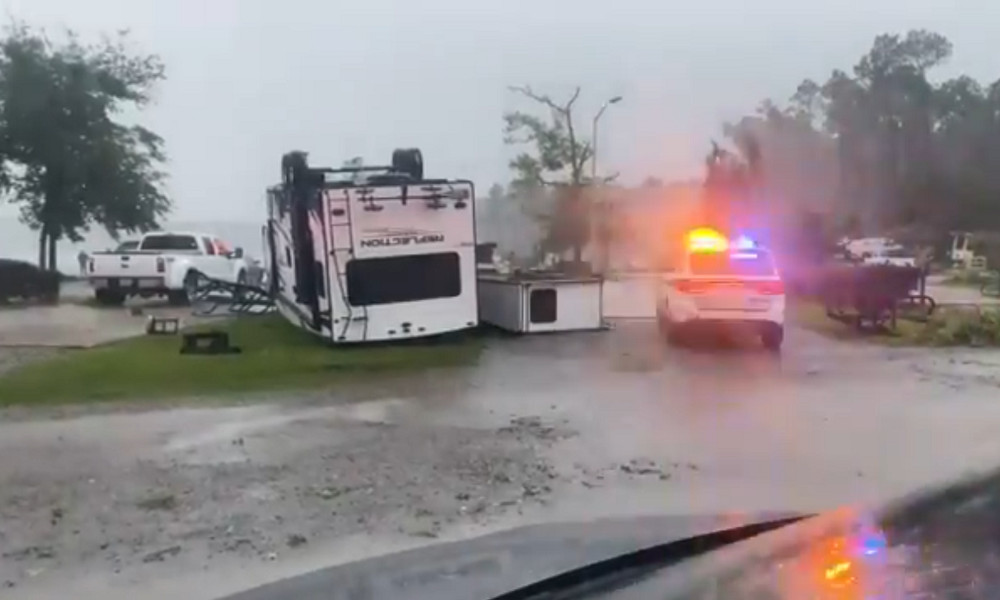 A tornado hit Naval Submarine Base Kings Bay in southeast Georgia as Tropical Storm Elsa moved through the region, causing major damage at an RV park and injuring nearly a dozen people, officials and witnesses say.
The incident happened at about 5:50 p.m. on Wednesday when a suspected tornado hit Kings Bay, a U.S. Navy base near the city of St. Marys in Camden County, about 30 miles north of Jacksonville, Florida.
"There are reports of multiple injuries and damage to multiple recreational vehicles in the base RV park, and also reports of damage to buildings and structures on the installation," the base said in a statement. "There has been no damage to any sensitive military asset or submarine."
Christopher Tucker, a spokesman for the base, told BNO News that none of the injuries were classified as serious.
"At this time we have approximately 10 people injured, 9 of which were transported to local medical facilities," he said. All personnel who were staying at the base have been accounted for.
Footage from the scene showed heavy damage at the RV park, where at least one RV was thrown into the water. "There's trailers upside down, trailers in the lake. It's intense," witness Sergio Rodriguez said.
The tornado hit as Tropical Storm Elsa made landfall in northern Florida.
@BradNitzWSB @spann Hearing a tornado touched down at Eagle Hammock RV Park around Kings bay sub base. Photos from my cousins Facebook so these are not my photos. Clearly a tornado. pic.twitter.com/9Q1T3aHOfc

— Brian D (@BriannAtl35) July 7, 2021
July 7, 2021
July 7, 2021