Toxic fumes escape after truck overturns in Tucson, Arizona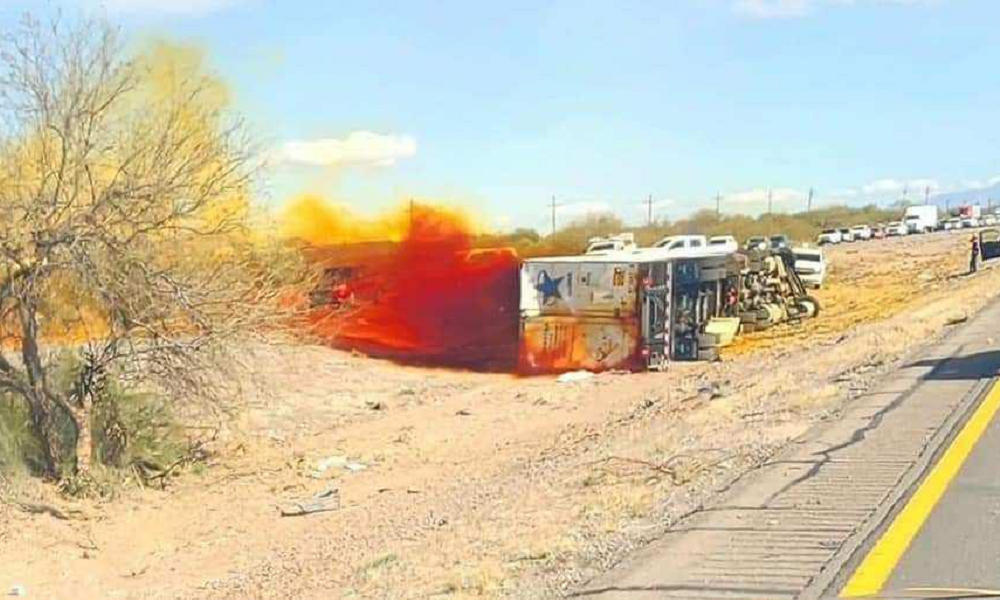 A truck has overturned on Interstate 10 in Tucson, Arizona, releasing a cloud of nitric acid and prompting an evacuation of the surrounding area, local officials say. The driver of the truck was killed.
The accident happened at around 3 p.m. on Tuesday when a commercial truck entered the median and rolled over near the Kolb Road exit of I-10, about 10 miles southeast of downtown Tucson.
Red and orange fumes were seen billowing from the truck as emergency services responded to the scene. The driver of the commercial vehicle was killed, according to the Arizona Department of Public Safety.
The Pima County Department of Environmental Quality said the crash resulted in a spill of nitric acid, which can cause health problems to those who are directly exposed, but the release was contained by 8 p.m.
"Nitric acid (HNO₃) is a colorless liquid with yellow or red fumes with an acrid odor," the CDC said. "Exposure to nitric acid can cause irritation to the eyes, skin, and mucous membrane; it can also cause delayed pulmonary edema, pneumonitis, bronchitis, and dental erosion."
Interstate 10 was closed in both directions near milepost 272 and people within a half-mile radius were evacuated, including the Science & Tech Park. People within a one-mile radius were told to shelter in place, which was lifted at 8 p.m.
"HAZMAT release is contained. You may resume normal activities," said an emergency alert sent to phones in the area.
Truck carrying hazardous materials overturns on I-10 in Tucson, Arizona. Nearby residents told to shelter in place pic.twitter.com/HFWNyaXYap

— BNO News Live (@BNODesk) February 14, 2023