Woman opens fire at Tennessee elementary school, killing 6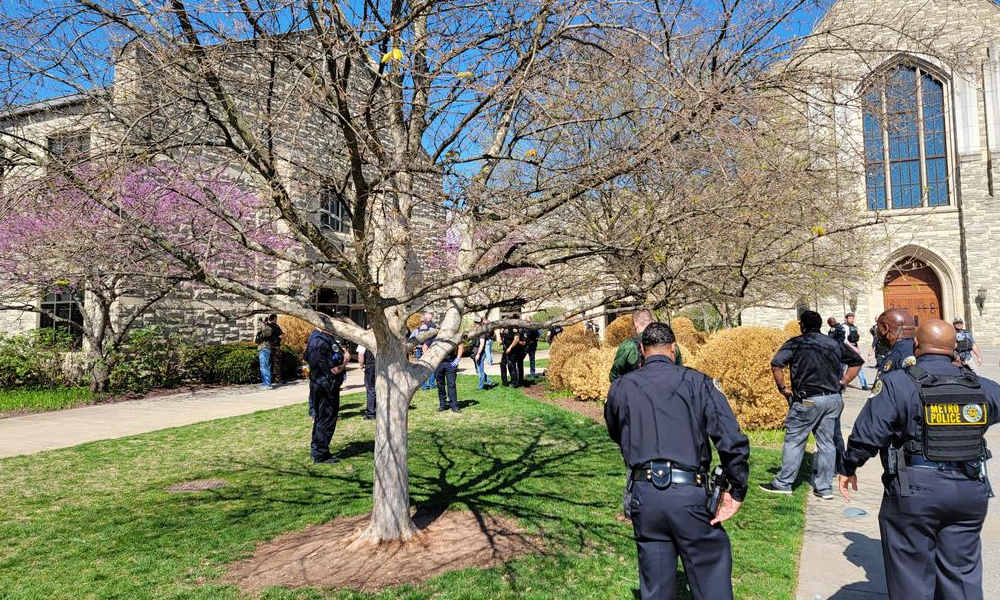 A transgender woman has opened fire at an elementary school in Nashville, Tennessee, killing six people before she was shot and killed by police, officials say. Three young children are among those killed.
The incident began at 10:13 a.m. on Monday when officers were called for an active shooter at the Covenant School, a private Christian school in Nashville which offers preschool through sixth grade.
"Officers entered the first story and began clearing it," said police spokesman Don Aaron. "They heard shots coming from the second level, immediately went to the gunfire and when the officers got to the second level they saw a shooter – a female – who was firing."
Two officers from a five-member team opened fire, killing the suspect, who was later identified as 28-year-old Audrey Hale, a former student at the school. She was armed with two "assault-type rifles" and a handgun.
Police confirmed a total of seven deaths, including three children aged 8 and 9, three staff members in their 60s – including the head of the school – and the suspect. A police officer suffered a hand injury from shattered glass.
Police Chief John Drake described the shooting as a "targeted attack," noting that Hale had drawn detailed maps of the school and left a manifesto.
"She entered the school through a side entrance and traversed her way from the first floor to the second floor, firing multiple shots," Aaron said. He added that Hale was killed by 10:27 a.m., about 14 minutes after the first call.
Drake said investigators were investigating a theory that Hale's gender identity was linked to the motive. He described Hale as a transgender woman but there were conflicting reports on whether Hale identified as a man or a woman.
"There was another location that was mentioned [in the manifesto as a possible place to attack] but because of a threat assessment by the suspect – too much security – they decided not to," Drake said. He added that Hale had resentment about having gone to the school when she was a schild.
The victims have been identified as Evelyn Dieckhaus, Hallie Scruggs, William Kinney, 61-year-old Cynthia Peak, 60-year-old Katherine Koonce and 61-year-old Mike Hill. Koonce was the head of the school, Peak was a substitute teacher and Hill was a custodian.
"In a tragic morning, Nashville joined the dreaded, long list of communities to experience a school shooting," Mayor John Cooper said. "My heart goes out to the families of the victims. Our entire city stands with you."
Bystander video captured the moments when students in Nashville were escorted by police following a shooting at Covenant School.https://t.co/nLWGnacUGo pic.twitter.com/KKljlyZyBj

— The Associated Press (@AP) March 27, 2023
Pretty sure every first responder in the city is in Green Hills right now. pic.twitter.com/ZAyWhtM6ea

— Chadwick D. G. Meyers (@MeyersInjuryLaw) March 27, 2023
All these ambulances just went the other way in green hills a few minutes ago. Not a good sign they're all coming back with a police escort. @WSMV @ScanNashville pic.twitter.com/lZaxWl9K3q

— Lurch (@LurchUTK) March 27, 2023