Shelter-in-place issued after reports of armed suspect in Monmouth University, NJ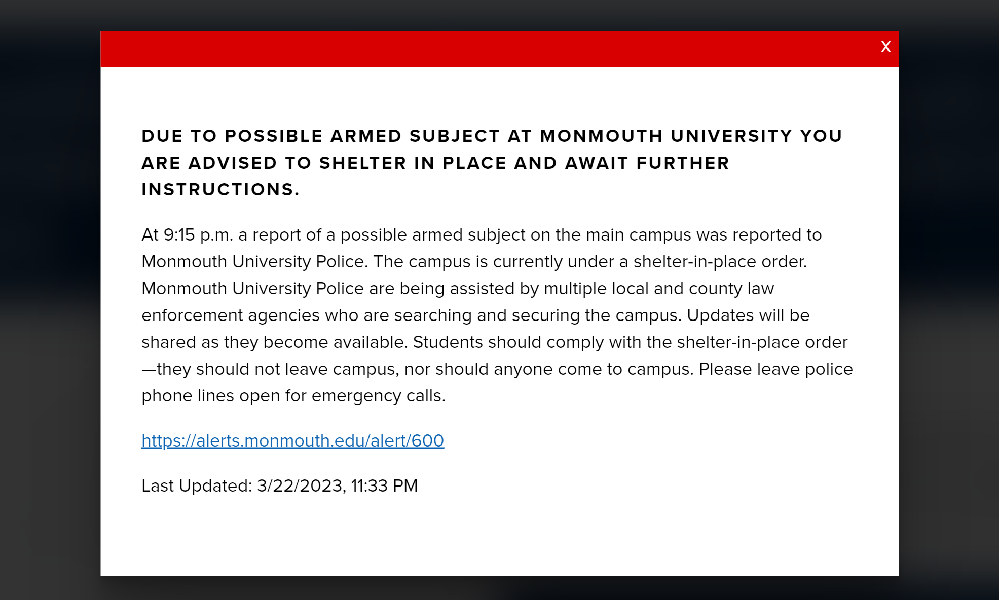 Monmouth University in New Jersey issued a shelter-in-place alert on Monday night due to reports of an armed individual on campus. The alert has been lifted and there are no reported victims.
The university's website released a statement advising students and staff to "shelter in place and await further instructions" due to the potential threat. The first reports were received at 9:15 p.m.
Local journalist Shlomo Schorr reported that at least three shots had been heard, citing students and police scanner audio. However, there have been no reports of any victims.
Images shared on social media showed students huddled on the floor during the active threat, while local and county enforcement agencies secured the campus.
The shelter-in-place was lifted at 1:42 a.m. after the campus was declared safe and cleared by authorities. However, an increased police presence will remain in effect.
Monmouth University, a private university in West Long Branch, Monmouth County, New Jersey, has nearly 5,700 students and 700 faculty members according to its latest count.