4 people die in group suicide at China's famous glass skywalk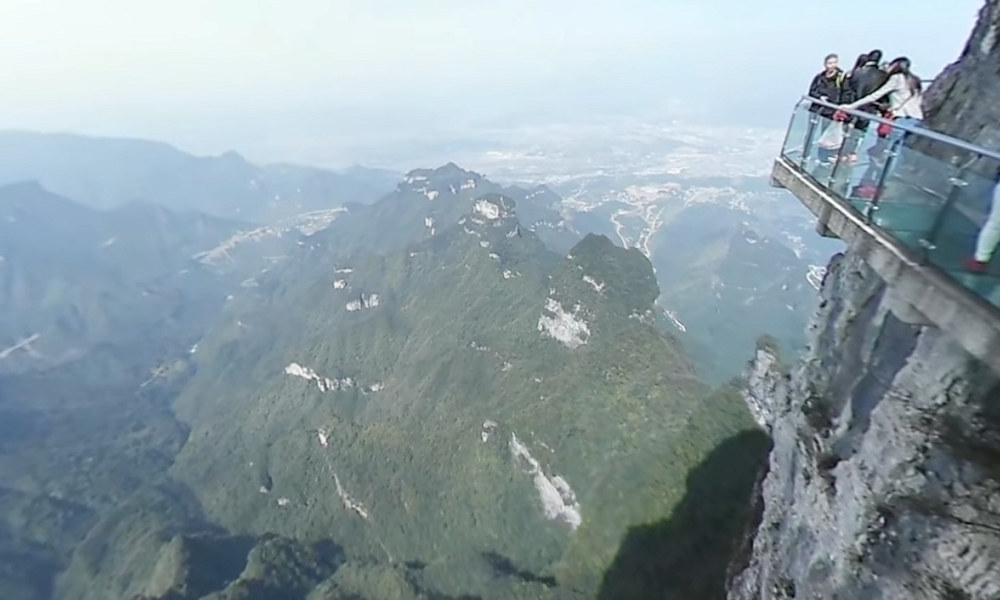 Four people who met online have died in a group suicide at China's Tianmen Mountain, a popular tourist attraction where people can walk on a glass skywalk at a height of 1,500 meters (4,700 feet).
The incident happened this week when three men jumped to their deaths from a skywalk at the mountain. The fourth person, a woman, was stopped from jumping but had already swallowed poison, causing her death.
Chinese media reported on Saturday that those who died lived in different provinces and communicated through group chats online. Except for their names, all four had identical suicide notes, stating that their suicides had nothing to do with anyone else.
Tianmen Mountain, which translates to Heaven's Gate because of a stairway which leads to a rock archway, has three glass skywalks. The suicides happened on the west line skywalk, which is 60 meters (197 feet) long and reaches an altitude of 1,430 meters (4,692 feet).
The woman, who was in her early 20s and from Guangdong Province, sent photos from the skywalk to her friends just minutes before her suicide. She holds a water bottle with the French text "Belle journée," which means "beautiful day," in one of the photos.
"Hello world, goodbye," the caption said.
Family members of one of the men, a 23-year-old from Fujian province who worked in various places, said they had not noticed anything unusual in his recent behavior, although he had not returned home for Chinese New Year.
He called his mother before the incident, telling her that he was going on a trip.
Tianmen Mountain is located in Zhangjiajie, a city in southern China's Hunan province. More than 20 million people have walked across the glass skywalks since they were first opened.
If you or someone you know is experiencing a crisis related to suicide, mental health or substance use, call or text the U.S. Suicide & Crisis Lifeline at 988 to speak with a counselor in your area. If you're in the UK, call the Samaritans at 116123.