Passenger train derails in the Netherlands, killing 1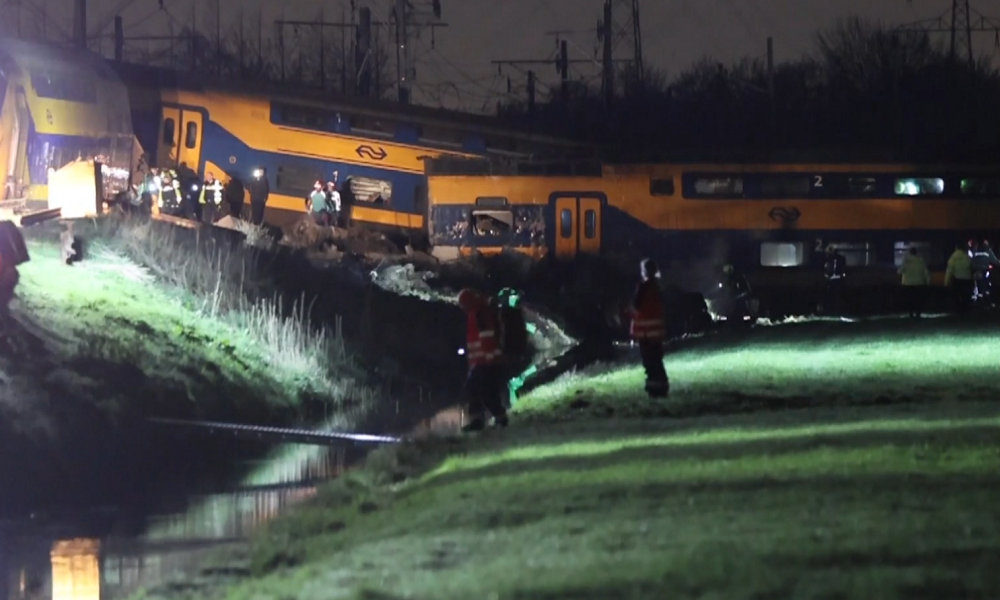 A passenger train has derailed after colliding with a maintenance crane in the Netherlands, killing at least one person and injuring 30 others, officials say. A freight train also collided with the crane.
The accident happened just before 3:30 a.m. on Tuesday when a passenger train collided with a small maintenance crane in Voorschoten, a village between The Hague and Amsterdam.
A spokesperson for the safety region confirmed that one person was killed in the crash. At least 30 others were injured, including 19 people who were taken to hospital, where some were being treated for serious injuries.
The crane operator was the person who died, according to local media.
Railway operator NS said about 50 to 60 passengers were on the train, which was traveling between Leiden and The Hague. Parts of the train ended up in a field while other parts overturned next to the track. One car was briefly on fire.
An earlier statement from the emergency services said the train had collided with a freight train but it was later determined that both trains had crashed into a crane while driving on separate tracks.
The accident happened while two out of four tracks were closed for scheduled maintenance, but neither train was driving on the wrong track. It was not immediately clear how the crane – which was part of the maintenance work – ended up in a position to be hit by the trains.
Both drivers were injured in the crash, with the passenger train driver sustaining broken bones and other injuries, while the freight train operator suffered only minor injuries.
"A terrible train accident at Voorschoten, where unfortunately one person died and many people were injured," Dutch Prime Minister Mark Rutte said in a statement. "My thoughts are with the next of kin and with all the victims. I wish them strength."
Bijzonder beeld, een #trein in het #weiland bij #Voorschoten #treinramp, meerdere gewonde en 1 dode pic.twitter.com/5DlIWIkrPr

— Michel van Bergen (@mvbergen) April 4, 2023
Het zou gaan om en botsing tussen een passagierstrein en een goederentrein. Passagierstrein is deels ontspoord. Inzittenden trein zijn/worden geëvacueerd. Over gewonden is nog niets bekend #Voorschoten #treinongeval #GRIP2 pic.twitter.com/YRvK5nbeVQ

— Regio15.nl (@regio15) April 4, 2023
Volgens de NS betreft het geen botsing passagiersplein/goederentrein maar zou de passagierstrein op een kraan zijn gebotst die op het spoor stond, mogelijk ivm werkzaamheden. Er zijn meerdere licht- en zwaargewonden. #Voorschoten #treinongeval pic.twitter.com/rgN63od23A

— Regio15.nl (@regio15) April 4, 2023