Alaska Amber Alert: Karma Brown missing from Fairbanks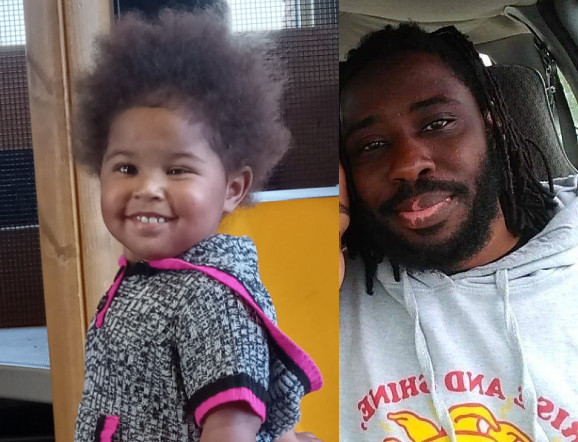 UPDATE: The amber alert has been canceled. Karma was found safe.
An Alaska Amber Alert has been issued for 2-year-old Karma Brown after she was allegedly taken from her home in Fairbanks, local officials say. Anyone with information is urged to call 911 immediately.
Karma was last seen at about 1:45 p.m. on Tuesday in the area of Lakeview Terrace Road and Easy Street in Fairbanks, according to the amber alert, which says the girl is missing and "presumed at risk."
Karma is believed to have been taken by Jean Tamas Brown, who is described as a 40-year-old black male with black hair and brown eyes, standing 5 feet 5 inches tall and weighing 178 pounds. He has a scar on his left arm and an "Eve" tattoo on his chest.
Jean may be driving a white 2005 Ford F150 with Alaska plate KFK148. He previously made mention of possibly traveling to California.
Karma is described as a 2-year-old black female with black hair and brown eyes, standing 2 feet 6 inches tall and weighing 35 pounds. She has a prosthetic eye and was last seen wearing a diaper.
Anyone who sees Karma or Jean is urged to call 911 immediately, or call Alaska State Troopers at 907-451-5100 if you have any other information that could help investigators. You can also call the Amber Alert Hotline at 866-AKAMBER (866-252-6237).
This is an amber alert. Please check back or follow @BNONews on Twitter as details become available. If you want to receive breaking news alerts by email, click here to sign up. You can also like us on Facebook by clicking here.