Moderate earthquake hits Johannesburg, South Africa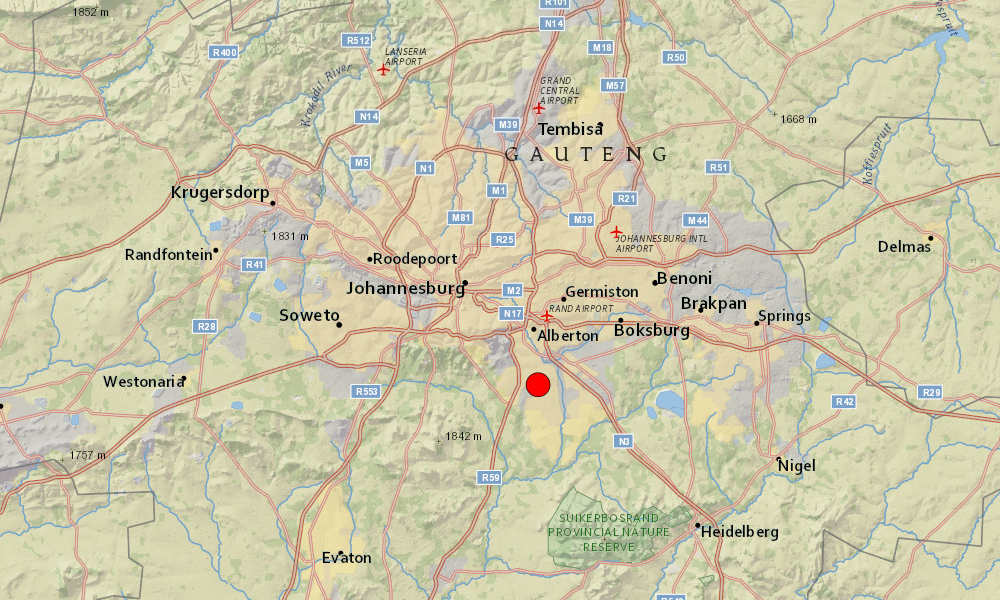 A 5.0-magnitude earthquake has struck the South African city of Johannesburg, waking up people and causing damage to some buildings, seismologists and residents say. Shaking was widely felt across the city and the region as a whole.
The earthquake happened at 2:38 a.m. on Sunday and was centered just 6 kilometers south of Alberton, or roughly 16 kilometers southeast of central Johannesburg, according to seismologists.
The U.S. Geological Survey (USGS) said the earthquake had a magnitude of 5.0, while South Africa's Council for Geoscience put it at 4.7. The quake struck about 10 kilometers below the surface, which is very shallow.
People said the shaking was strong enough to wake them up and some homes suffered relatively minor damage, but there were no immediate reports of injuries. "The whole house shook for about 40 seconds," one resident in Alberton said.
This is the strongest tremor in the Johannesburg area since March 2019, when a 4.9-magnitude earthquake hit near Soweto. In 2017, a 5.2-magnitude earthquake hit near Stilfontein.
BNO News is building a platform to make the media and government in South Africa and other countries more transparent. A global newsroom where anyone can access raw information. Help us make CivicWire a reality: become a founding member at civicwire.com.
These are some videos, pictures and messages people have posted on Twitter following the #GautengQuake.
No major damage or injuries have been reported yet. Independent Scientific Organisation, EMSC, says aftershocks may occur. Please tweet us your videos or pictures. #DStv403 pic.twitter.com/9BKntELl8I

— eNCA (@eNCA) June 11, 2023
Here we go pic.twitter.com/Fzci8h4Ta1

— CaZ UniQ (@Cazwhin) June 11, 2023
Watch the street lights shake… A powerful 4.5 magnitude tremor has been felt across large parts of Gauteng. Video: Supplied #Tremor #Gauteng #Earthquake @TheCitizen_News https://t.co/FX7q4AI0t1 pic.twitter.com/2XtyVV3LdD

— 𝙵𝚊𝚒𝚣𝚎𝚕 𝙿𝚊𝚝𝚎𝚕 (@FaizelPatel143) June 11, 2023